How to Become a LEGOLAND Florida Kid Blogger or Vlogger
Saturday May 29th 2021
Kid Blogger, Kid Vlogger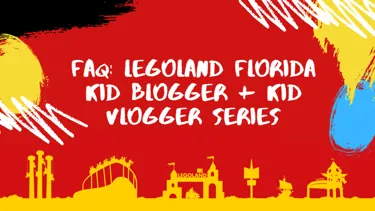 As you may have seen over the past week, we just launched our brand-new KID BLOGGER and KID VLOGGER series.
It's for kids like YOU to share your experiences while visiting LEGOLAND Florida. 
We got SO MANY questions about the new program, so we wanted to answer some FAQ's (frequently asked questions) to help you decide if you want to become a Kid Blogger or Vlogger?
What is a LEGOLAND Florida Kid Blogger or Vlogger?
Our Kid Bloggers and Kid Vloggers get to share their real experiences with other kids (just like you) to show what it's really like to visit LEGOLAND Florida, and all the awesome stuff there is to do and see.


What do you do as a LEGOLAND Kid Blogger?
Our Kid Bloggers write blog posts that are featured on our blog along with photos they've taken.  
And I am sure some of you think blog posts are like LONG papers for school. They're totally not! Our bloggers get to decide how they want to share their stories, so they don't need to stress about writing 3 pages! For example, check out SJ's blog post.
What do you have to do to be a LEGOLAND Kid Vlogger?
Not only do our Kid Vloggers write a short blog post, but they also FILM their story – just like your favorite YouTube celebrities!  Both get put up together on our blog. It's a great way to show people their firsthand experience. For example, check out Kennedy's blog and vlog.
Can anyone be a Kid Blogger or Vlogger?
Yes! You must be a kid up to ages 7-12 to participate.
How do I become part of this awesomeness?
Have Mom or Dad reach out to LLF.MEDIA@LEGOLAND.COM and let us know that you are interested in writing for our blog and what ideas you have!
From there someone on our super cool blog team will chat with your parents, share more information, and we can decide the next steps!
Bam! It's that easy! 😊
Kids, the newsletter information below this is for your parents.  Please do not complete or provide any personal information unless you are at least 13.