Cool off and relax at the LEGOLAND® Water Park with your own private cabana. Our cabanas are like having your own little house with a water park at your doorstep!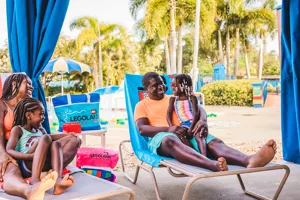 5 Reasons to Book a Cabana
Give the little ones an easy place to cool off and take a nap
Skip the search of having to find beach chairs for everyone (and the worry of having them taken later)
Keep your belongings safe with a personal locker and save money by not needing to pay for one
Skip extra back and forth walking trips between lockers, beach chairs, and the Beach & Brick Grill
Enjoy a "FastTrack to food" through having your personal cabana host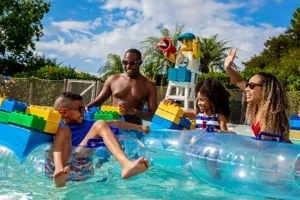 3 Cabana Types to Choose From
Duplo Splash Cabanas: These 7 Cabanas are located in our most private locations and provide the best access to the DUPLO Splash Safari.
Joker Soaker Cabanas: These 10 Cabanas offer the best access to the ultimate water playground, the Joker Soaker. They also offer convenient access to the LEGO Wave Pool and Twin Chasers.
Twin Chaser Cabanas: These 3 Cabanas offer additional seating and more space, making one the perfect choice for more privacy. They offer the best access to Twin Chasers and also offer convenient access to the Joker Soaker and LEGO Wave Pool.
Plus, all Cabanas offer convenient access to restrooms and changing areas.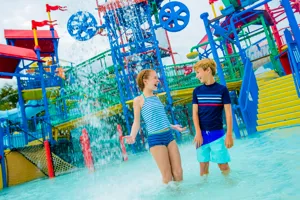 Our Cabanas Include:
Your own private space
2 souvenir towels
A personal locker
Use of a mini-fridge stocked with 10 bottles of water
Your very own cabana host
Beach recliners and chairs (and more furnishings with a Twin Chaser Cabana)
Plus, upgrade to a premium cabana for more perks to enjoy.