Location
LEGOLAND Florida is located at One LEGOLAND Way, Winter Haven Fl, 33884, just 45 minutes from Orlando or Tampa. 
Park Hours:
For up-to-date park hours, view our operating hour calendar. Toll and ticket booths open approximately 30 to 45 minutes prior to Theme Park opening.
Lockers
Lockers are available for rent in The Beginning (inside the entrance of LEGOLAND Florida Theme Park) and also inside LEGOLAND Water Park. LEGOLAND Florida is not responsible for personal items and/or lost or stolen items. Locker pricing ranges from $15-$20 (tax-inclusive) depending on the size selected.
Credit Cards
LEGOLAND Florida has gone cashless and does not accept cash as a means of payment at the Resort. For credit card purchases, valid photo ID with signature is required. LEGOLAND Florida accepts American Express, Discover Card, VISA and MasterCard for park admission, merchandise and restaurant purchases (specific locations only). LEGOLAND Florida does not accept personal checks. For all other questions or forms of payment, please visit Guest Services upon admission to the theme park.
View LEGOLAND Florida's Terms & Conditions
Strollers & Wheelchairs
Guests are welcome to bring their own stroller, ECV, or wheelchair to LEGOLAND Florida, however, no other wheeled personal transportation devices (for example: bicycles, skateboards, or segways) are permitted.
Strollers, wheelchairs, and ECVs are available for rent just inside the LEGOLAND Theme Park front gate on a first-come, first-served basis. You can also purchase these items in advance here. 
Dietary Restrictions
For information, view our dietary guide or email LLF-Food@legoland.com or visit Guest Services for specific information about your dietary concerns before visiting our parks. Please allow 48 hours for a response prior to your visit.
Unaccompanied Minors
Except when participating in events intended for young guests, such as our educational field trips and summer camps, children 14 and under must be accompanied by an adult (over the age of 18). When entering the park, guests with minors in their party may be asked to present a valid form of ID to verify that they are over the age of 18.
Guest Services
Guest Services is located at the Admissions building by the turnstiles. Our Model Citizens can assist you with guides for guests with disabilities, show information, lost and found, lost parent's center, and general park information. You can also find the answers to many of the Frequently Asked Questions online.
Smoking
In keeping with our child-friendly atmosphere, smoking is prohibited across the Resort except in designated areas. Please check the park map or official mobile app to locate the designated smoking areas.
Bag Check
To make your visit as safe, secure and enjoyable as possible we have enhanced security checks in place. These include bag and personal belonging checks, which will be carried out for guests prior to entry.
Prohibited Items
Below is guidance on what cannot be brought into LEGOLAND Florida Resort. Please be aware this list is not exhaustive and is subject to change.
Any item deemed to be a weapon
Fireworks and/or smoke bombs
Glass bottles or other articles which may cause injury and/or be deemed offensive or dangerous
Sharp objects or anything which may be considered a security risk including knives, penknives, scissors, corkscrews, metal nail files, toy or replica guns.
Intoxicating liquor
Illegal substances and/or legal highs
Skateboards, scooters and rollerblades
Drones
For further details, please refer to our Terms and Conditions.
Property Rules
The following rules are a condition of your use of and access to LEGOLAND Florida Resort as well as our services (website, mobile app and on-site digital services). 
In order to help maintain our family atmosphere, we ask that our guests and Model Citizens refrain from using offensive language or participating in disruptive, illegal, unsafe or offensive behavior at our Resort which includes skipping the lines, saving places in line for others, etc.  For entrance to the Resort, offensive or rude clothing is not permitted and guests may be asked to change in order to gain access. No weapons of any kind are allowed on park property. LEGOLAND Florida reserves the right to search/inspect any item and guests may be subject to bag checks upon entry.
Children under 14 must be accompanied by an adult (over the age of 18) at all times unless they are participating in a special, pre-booked group activity like a field trip.
Video surveillance cameras are in use at various locations around the Resort and entry to the on-site hotels, theme park and/or water park.
Segways, roller blades, wheeled shoes and skateboards are prohibited. For the comfort of those around you, we request there be no flash photography, smoking, eating or drinking in any attraction. Park Rangers patrol all areas of the park and are more than happy to help or advise. LEGOLAND Florida is not responsible for any lost or stolen items.
Commercial Photography
Photography, videotaping or recording of any kind for commercial or media use, including but not limited to blogs, vlogs and podcasts, is prohibited without the prior consent of LEGOLAND® Florida Public Relations at LLF.Media@LEGOLAND.com. Guests planning to capture images or video for personal use with professional cameras or recording equipment, including but not limited to tripods, removable lenses, lights and microphones are advised to alert LEGOLAND® Florida Public Relations to avoid any concerns by Park Rangers and Resort Security. Drones and/or other unmanned aerial vehicles with or without recording capabilities are strictly prohibited.
Ride Height Requirements
Being able to fit within the restraints comfortably and safely is a requirement set by each of the ride manufacturers for the attractions at LEGOLAND Florida Resort and are a key factor for the safety of our guests. Therefore, if the safety belt or lap bar does not secure the rider to the seat properly, the guest will be asked to exit the ride prior to its launch. Required heights to enjoy the attractions across the Resort are available on the Attractions pages on our website and on the official mobile app.
Frequently Asked Questions
Ready to Go? Book Your Trip Below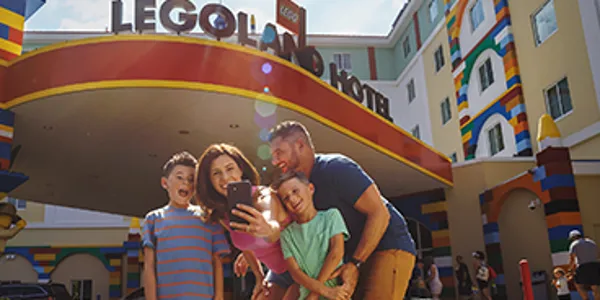 Family Vacation Packages
Overnight hotel stay
Multi-Park tickets for LEGOLAND Florida® Theme Park + Water Park + Peppa Pig Theme Park

Extra perks of staying at one of our three on-site hotels:

Free hot breakfast (served family style, all you care to eat)
Self-parking included
Separate sleeping area for kids in every room
Daily in-room treasure hunt with complimentary LEGO® souvenir 
Resort-style pool at your hotel (heated seasonally)
A chance to keep the fun going after dark, with play areas, nightly shows, dance parties, and more!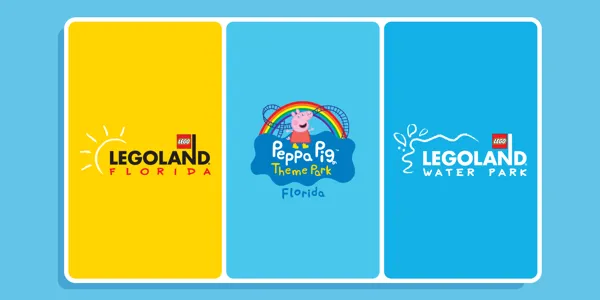 One or Multi-Park Tickets
Build your trip and select the days and parks you want to visit
Special Events, available on select dates throughout the year, are included in regular admission
Starting From
$84
per person before taxes & fees*
Front Gate
$119
per person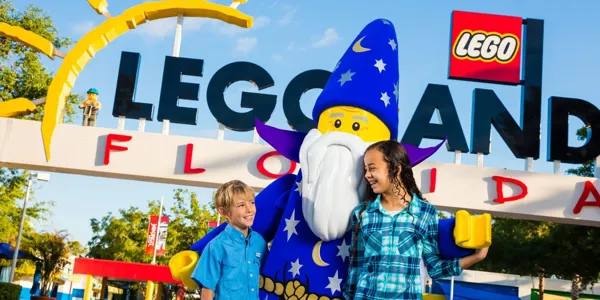 Annual Passes
Enjoy 12-Month Admission (blockout dates apply)

Admission to LEGOLAND® Theme Park Plus select annual events for 12 months (Blockout dates apply)
Exclusive Collectibles
Friends & Family Discount Tickets
Digital Pass

Admission to LEGOLAND® Theme Park (Blockout dates apply)
FREE self-parking
Exclusive Food & Beverage, Shopping & Hotel Discounts
Exclusive Collectibles
Friends & Family Discount Tickets
Digital Pass
Monthly Pay Available^

Admission to LEGOLAND® Theme Park (Blockout dates apply)
FREE self-parking
Admission to LEGOLAND® Water Park (Blockout Dates Apply)
Add Admission to Peppa Pig Theme Park for $30 (Blockout Dates Apply)
Exclusive Food & Beverage, Shopping & Hotel Discounts
Exclusive Collectibles
Friends & Family Discount Tickets
Digital Pass
Admission to More Local Attractions
Monthly Pay Available^

Unlimited Admission to LEGOLAND® Theme Park
FREE Preferred Parking
Unlimited Admission to LEGOLAND® Water Park
Unlimited Admission to Peppa Pig Theme Park
Exclusive Food & Beverage, Shopping & Hotel Discounts
Exclusive Collectibles
Friends & Family Discount Tickets
Digital Pass
Admission to 30+ Merlin Attractions
Monthly Pay Available^

Special Events, available on select dates throughout the year, are included (excludes Bronze Pass)