Bring The LEGO® Movie™ to life!
Friday September 17th 2021
Alex Day
LEGO, Kid Blogger, Theme Park, Hotel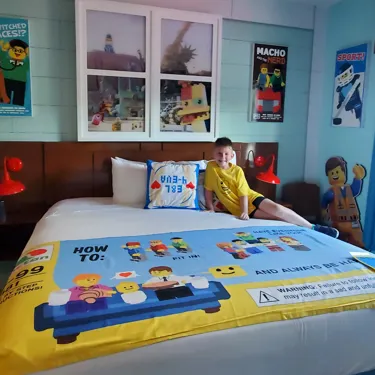 Hey LEGO Friends!! It's Alex again - and I'm excited to share my favorite ways to enjoy The LEGO® Movie™ at LEGOLAND Florida Resort.
I keep telling my mom that I like LEGOLAND Florida more than the other theme parks, so she keeps bringing us back for more fun! This last time we stayed in one of The LEGO® Movie™ themed rooms at the LEGOLAND Hotel. After staying at the other hotels, I can say hands down that this is my favorite place to stay because it was like the movie came to life
The Disco party in the elevator was such a fun way to celebrate our arrival and I loved the LEGO carpet leading up to our room.
Everything in the room was AWESOME!! The room was styled just like Emmitt's house in The LEGO® Movie™ and hiding around the room was Rex, Wild Child, and Emmitt, Oh – I can't forget Uni-Kitty who was in the bathroom! I even needed to be careful of a crazy DUPLO invasion trying to break in our window that overlooked the pool.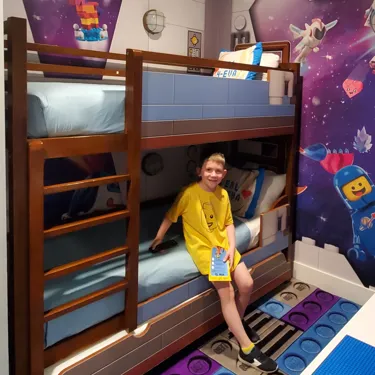 And guess what? You can experience The LEGO® Movie™ in the theme park too - there's a whole land that feels just like the movie. You can meet Rex or Emmitt and even go on my favorite ride,
THE LEGO® MOVIE™ Masters of Flight!
The Masters of Flight ride is an awesome 4D ride that makes you feel like you are actually flying. There are tons of special effects to make you feel like your really flying through different LEGO universes, and you may even get splashed!
It was so much fun that I made my parents go on the ride four times in a row! I can not wait until my next trip to the park because Masters of Flight will be my first stop!
The movie was right - everything is AWESOME at LEGOLAND Florida Resort!