Show
Go Xtreme! Show
Join the "live studio audience" of LEGO City's favorite TV show Go Xtreme! where world-class performers audition for their big break with crowd-thrilling, hilarious and extreme stunts, select dates May 27 through August 6.
May 27 - August 6
All Ages
Theme Park, LEGO® City
Show
Brickbeard's Watersport Stunt Show
Ahoy! Watch Brickbeard's buccaneer recruits pass swashbuckling skill tests on the high seas at LEGOLAND® Florida Resort! Does it have pirates? Yes. Does it have more speed? Double yes. Does it have higher jumps? For sure, yes.
All Ages
Theme Park, Pirates' Cove
Show
Time to Learn
Join our schoolhouse teachers as they engage in activities such as science, reading & writing, and more! These shows are perfect for guests ages 2-6! Grab a seat, it's Time to Learn! 
Ages 2 - 6
Theme Park, DUPLO® Valley
Show
LEGO® MYTHICA 4D: Journey to Mythica
A portal to a never-before-seen LEGO® world has opened at LEGOLAND® Florida Resort and its creatures come to life in an all-new 4D movie! Full of epic adventures and mysterious creatures all waiting to be discovered, 'Journey to Mythica' enters an incredible parallel universe that has been created through the power of LEGO® bricks and kids' imagination. ​
All Ages
Theme Park, Fun Town
Show
LEGO® City 4D - Officer in Pursuit!
This movie will put you right in the middle of the action and have the entire family laughing out loud! A mischievous crook is on the loose and making his way through the streets of the busy metropolis - our local LEGO City Police Officers need your help! Put your skills to the test in this chaotic pursuit full of water, wind, and bubble effects as you race to put this thief behind bars.
All Ages
Theme Park, Fun Town
Show
LEGO® NINJAGO®: Master of the 4th Dimension
Join the LEGO® NINJAGO® heroes at a very special LEGOLAND® training session! Become part of the 4D action as not everything goes to plan with the ninjas needing your help in mastering the 4th Dimension – the universe depends on it! 
All Ages
Theme Park, Fun Town
Show
THE LEGO® MOVIE™ 4D: A New Adventure
Emmet, Wyldstyle, Unikitty, MetalBeard, and Benny reunite at the invitation of a new character, Risky Business. This shady new addition is planning to open an intriguing theme park bearing a suspicious resemblance to LEGOLAND®. Find out if this is a happy reunion of old friends or if Risky Business has other evil motives! 
All Ages
Theme Park, Fun Town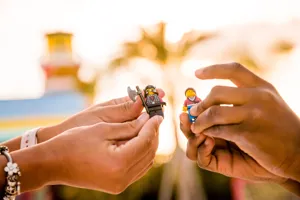 Minifigure Trading
At LEGOLAND®  Florida Resort, we love Minifigure Trading! Have you seen a Minifigure on a Model Citizen's Brick Badge that you LOVED? Did you know that you may trade for it?
Minifigure Trading is an AWESOME and unique aspect of the LEGOLAND Parks and it's as easy as one, two, three!
Learn More