Inside LEGOLAND Florida Waterpark
Wednesday September 8th 2021
Hunter & Declan Morris
Water Park, Kid Blogger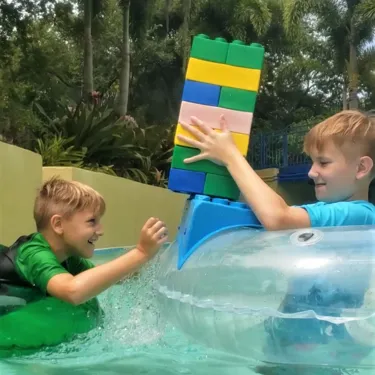 Hey guys! Our names are Hunter and Declan and we are super excited to be guest bloggers for LEGOLAND Florida!  
We want to take you on an adventure through LEGOLAND Water Park. The waterpark is located at the back of the park and it's pretty awesome. We bounced around the park a lot because there are so many fun things for all ages.  
One of the coolest things is that when you walk up to the gate you actually walk right over the Build-a-Raft lazy river! You can take a nice relaxing ride in a tube, but watch out, there are some surprises along the way!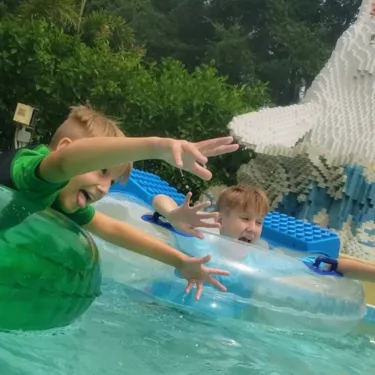 The LEGO® Wave Pool is another fun area and every 5 to 10 minutes the waves come rolling in. You can also build with LEGO in the pool. 
We love that they have a few areas to build and create with LEGO as well. Like Build-A-Boat! You grab a boat, add some LEGO and race your friends to the finish line!  
Are you a thrill-seeker? Then the water slides are where you want to be.  
They have two water slides that require you to use tubes called Twin Chasers. One slide is enclosed and the other is open. We decided to go down the open slide (or blue slide) together! SO MUCH FUN!  
However, our favorite slide, Splash Out, takes us high in the sky!  
We have to climb stairs to get to them but the speed going down these tall slides is worth every step!!  
If you still want to try out some water slides but might not be tall enough, they have a big play area, Joker Soaker, with slides of all heights for all ages! WATCH OUT THOUGH! If you're not careful, you might get caught under the super splash from a giant bucket!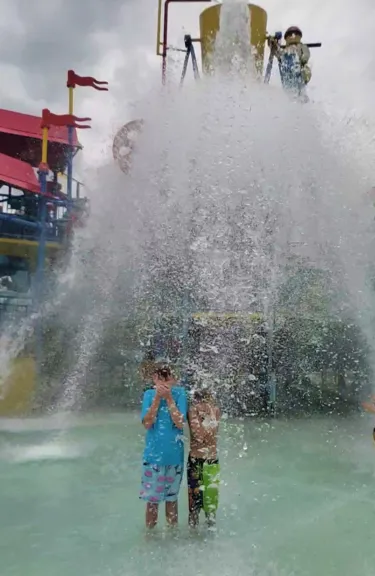 Lastly, the water park has an area for those that are younger or DUPLO age. The water is shallow, they have two slides and some cute animals.  
We couldn't let our siblings have all the fun, so we tried it out too!  
The water park is a great place to cool off, have fun and kick back and relax. They have lifeguards at every corner ensuring safety and rules are followed and at the end of the day, it leaves you wanting to come back for more awesome adventures!