4 Shows You Need to See During PirateFest Weekends
Thursday February 18th 2021
Tara Degryse
Entertainment, Events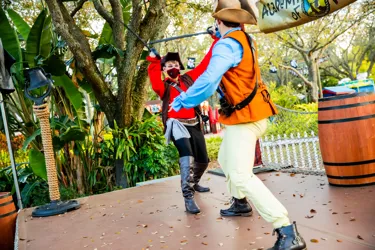 Get your sea legs ready, mates, because PirateFest Weekends is jammed-packed full of SUPER COOL NEW shows that are making every pirate across the seven seas (including myself!) excited! 
Alright then. Let's COMMENCE PIRATE TALK and SAIL AWAY!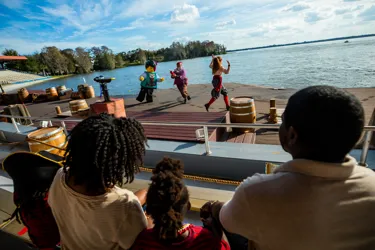 If ye haven't heard the news, Captain Brickbread will be running the show with his buccaneers during Brickbead's Watersports Stunt Show. These buccaneers best be ready as they must pass a wild skill test on the high seas full of CRAZY stunts!  
Do they go fast? YA!  
Do they jump – or even high jump? DOUBLE YA.  
Oh, and did we mention the show has a totally-awesome-brand-new-super-cool flyboard act (that's basically looks a skateboard that flies ABOVE the water when water from a jet ski propels it UP, UP, UP)?!  
OH YA. We DEFINITELY have that.  
And since you're captain of this adventure during PirateFest Weekends, have yer crew get to the Ski Stadium early to grab a closer seat to the action – and you can even bring a fun tasty treasure inside to enjoy while ye wait!   
I recommend the FUNnel cakes...although our Chef Derek may have other ideas..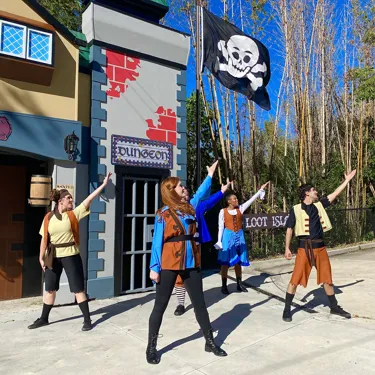 2. Treasure Behold

 
Did ya know that pirates are known for loving music and dancing? It's true – they do! 
But I bet ya already knew that there's one thing pirates love most of all – TREASURE!  
Treasure Behold! Is a show like no other during PirateFest Weekends. 
It has exciting music, fun dancing, "explosions", and you guessed it – AN EPIC quest for TREASURE that you even get to help out with!  
​There's also a FUNNY parrot puppet named, Popsy, who steals the show - but, don't tell the crew or they'll make me WALK THE PLANK!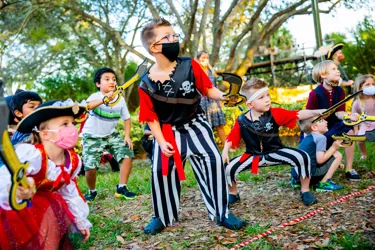 3. Academy of 

Arrrgh
Do ye consider yerself a pirate? Ah, so you do? 
Well, ye best LEARN the ways of the pirates from the very best!  
Enroll in Academy of Arrrgh – a sword-fightin', swashbuckling', lingo-learnin' training' academy.   
ARRGH! That's right! You get to learn the in's and out's of being a TRUE PIRATE.  
After passing our academy, you can sail the seven seas and handle any sea creature! Nothing can stop ye now, mate – or should I call you Captain!?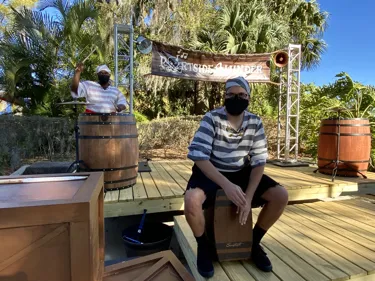 4. Portside Blunder

 
Now that ye know pirates LOVE music, ye won't want to miss a BEAT of Portside Blunder.  
This duo of "lazy" pirates know how to make chores fun as they turn work in PLAY, showing of their talented musical skills and their very own Pirate's Code.  
You'll laugh. You'll clap. And you might even learn ways to turn your own chores into fun (although mom and dad may not like ye turning yer kitchen counter into a drum set, so be careful of that one, savvy?) 
So ARRRRGH you entertained? We sure ARGH!  
Mark ye calendars and grab yer crew for PirateFest Weekends on February 12-14, 20-21, 27-28!  
Kids, the newsletter information below this is for your parents.  Please do not complete or provide any personal information unless you are at least 13.