Unlock Your Inner Ninja (And Nab Some Awesome Freebies) at LEGO NINJAGO Days
Friday June 11th 2021
Banks Lee
Events, Entertainment, Theme Park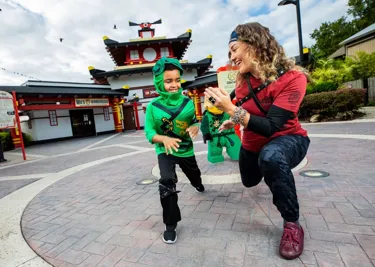 Training's over! Time to put those ninja skills to the ultimate test at LEGO® NINJAGO Days weekends this June! 
This year's event is a big one as we celebrate NINJAGO's 10th anniversary. Talk about perfect timing, we are turning 10 this year too!  
And what better present to unwrap than an all-new interactive AR (augmented reality) experience centered around your favorite ninja.
Use the camera on your phone to scan the QR code at one of six photo spots and play The NINJAGO Legacy Quest! Using your best ninja moves (and a steady camera), you can unlock six Golden Amulet fragments and pose for the perfect action shot with Kai, Cole, Zane, Jay, Lloyd, and Nya. 
Check this video out to see it all in action!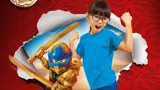 Once you finish all six spots, you will be able to download a free video showing all the cool action you just took part in with the NINJAGO crew. 
Oh, do you like that Golden Amulet that you helped to complete? Well, you can totally pick one up for FREE during LEGO NINJAGO Days! They are found in the AR experience area. (Limited quantities are available, so come early if you want to grab one of these AWESOME collectibles!) 
Ready for some insider information? There are MORE freebies you can pick up throughout LEGO NINJAGO Days! 
Once you complete that scavenger hunt I mentioned above, you can get a special LEGO brick featuring some cool art of the event. 
After learning how to be the best ninja you can be at the School of Spinjitzu, you will get a cool golden ninja headband to totally show off to your friends and family. 
And if you're an Annual Passholder you can grab yourself a FREE pop badge (these are the absolute coolest. They're like collectible pins that don't ruin your shirts! You're welcome, parents) AND exclusive ninja headband over at Wu's Warehouse. 
If you and your family are staying at one of our amazing hotels, you can look for a special ninja surprise inside your in-room treasure hunt! 
Now, it is very important to know that these freebies are VERY limited and on a first-come, first-serve basis. Meaning, if ya snooze, ya lose. So be sure to come out and experience the event as soon as possible, especially because it all ends on June 20th! 
And while you are here celebrating NINJAGO, head to The Big Shop to check out one of the NINJAGO Legacy sets. Not only do they celebrate the 10 years of NINJAGO, but some include a special golden Minifigure that you can ONLY get in those sets. The perfect souvenir after a day of fun! 
LEGO NINJAGO Days is happening on Saturdays and Sundays this month until June 20th. Come out and discover your inner ninja!