Eat Like a Ninja at LEGO Ninjago Days
Wednesday June 2nd 2021
Chef Derek Orris
Events, Food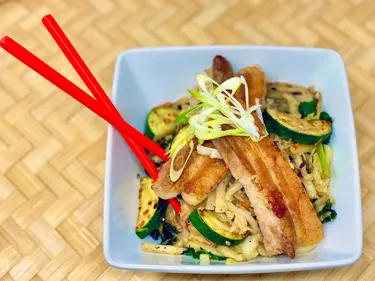 HI-YA!  
Oh, sorry about that.  
I've been practicing my skills to "Become the Ninja" at LEGO® NINJAGO Days! With so many challenges and activities, I want to make sure I'm in the best shape to join our ninja heroes. 
But if you want to know a secret from our Masters, the best way to unlock your "inner ninja" is to eat like one! So, to help you charge up, you'll want to "go, ninja, go" to grab all these delicious dishes. 
Bao Bun "S'Mores"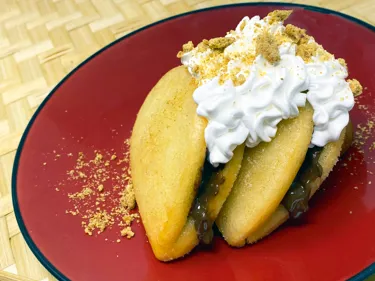 I bet you didn't know that our ninja masters LOVE s'mores!  
Yes, they're the perfect summer snack, but these aren't just your basic campfire creations. We load up fried bao buns with warm chocolate and then top them off with marshmallow whip and graham cracker dust.  
It's one of my favorites at NINJAGO Days and trust me, you'll come back to Ninja Kitchen many times for "s'more" of these!  
Pork Belly Yakisoba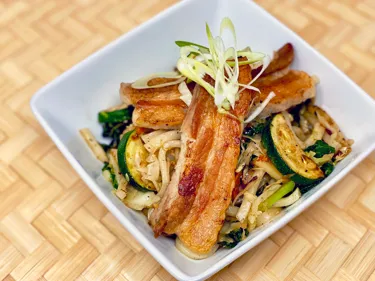 If there's one thing I have learned about ninja training, having a well-balanced meal is super important not only for your physical ninja skills but also for your mind! 
Our Pork Belly Yakisoba is the perfect meal to keep your energy up and your mind alert!  
In case you haven't heard of Yakisoba, it is a popular Japanese noodle dish. Fun fact, Yakisoba actually translates to "fried noodle". 
Our Yakisoba is topped with crispy pork belly, vegetables, kale, cabbage, onion and drizzled in a sweet Sosu sauce.  
This dish is a MUST have, that you can also pick up at Ninja Kitchen.  
Ponzu Crimini Burger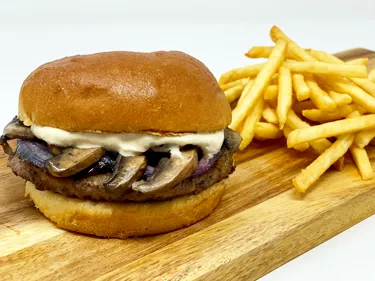 The Ponzu Crimini Burger the ultimate burger for any ninja! Our juicy beef burger is topped with ponzu glaze, red onion, marinated crimini mushrooms, and garlic aioli. Plus, it comes with a side of fries...because Lloyd needs his fries before working on his Spinjitzu.  
You can score this sizzling specialty burger at Burger Kitchen. 
Kids' Candy Sushi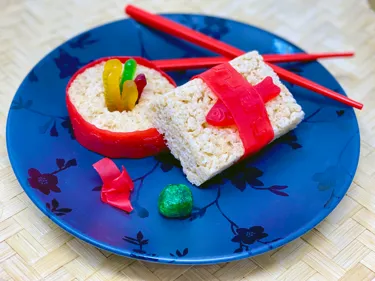 In case you're new to NINJAGO Days, our Kids' Candy Sushi is a pretty big deal.  
Our sushi is made of kispy treat "rice" with gummy fish. And to make this sushi dish even sweeter, we've added sides of chocolate sauce, candy "pickled ginger", and candy "wasabi". 
Our ninjas agree, this candy sushi is just *chef's kiss* so don't miss our fan favorite at both Ultimate Sandwich Builder and Granny's Apple Fries.  
Wonton Chip Nachos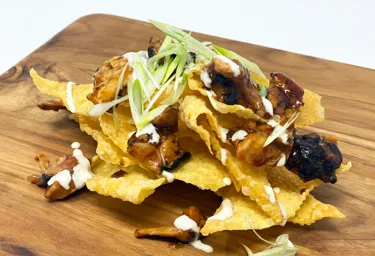 Alright, ninjas, you may have had nachos but TRUST ME – you have NEVER had nachos like these!  
We use special fried wonton chips and top them with savory teriyaki pulled chicken, cabbage slaw, and yuzu aioli!   
They're INSANE. But if you don't believe me, I heard Kai is a pretty big fan... 
You can also snag these at Ultimate Sandwich Builder and Granny's Apple Fries. 
Well, I'm starving...but I should really get back to my ninja training so I can impress Master Wu. 
Can't wait to see you all "unlock your inner Ninja" during LEGO® Ninjago® Days, June 5-6, 12-13, 19-20. 
Kids, the newsletter information below this is for your parents.  Please do not complete or provide any personal information unless you are at least 13.