My Visit to LEGO® Friends Weekends
Friday May 14th 2021
Kennedy Peters
Kid Blogger, Kid Vlogger, Events, Entertainment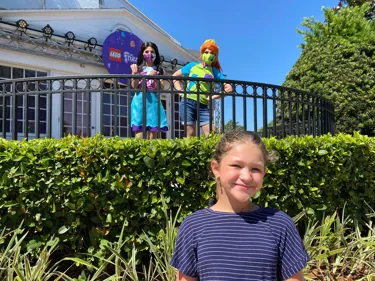 Hi everyone! My name is Kennedy and I am a guest blogger for the LEGOLAND Florida blog!
This past weekend I went to LEGOLAND Florida's LEGO® Friends Weekends event! You can check out more details on this page for when you go visit, too—after you read this of course! 
I'd love to share my thoughts and opinions with you about this fun event as the first kid vlogger for LEGOLAND Florida!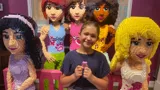 Starting off, I thought the concept and theming were great! I loved how the Model Citizens who welcomed you in to meet and hang out with all of the LEGO Friends were so perky and excited, especially one we talked to while going in to meet Andrea. She was so in character and happy!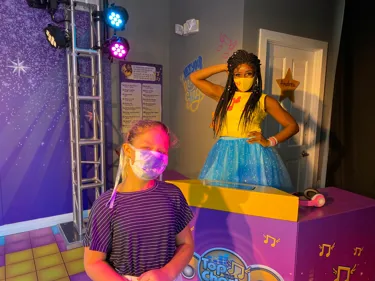 My favorite two Friends Weekends events were Top the Charts with Andrea and Stephanie's Step-a-thon!
My favorite thing about visiting Andrea was the amount of fun popular songs you had to choose from, including, "Rain on me" by Lady Gaga, "Blinding Lights" by The Weekend, and "Party in the USA" by Miley Cyrus. (Which I did!) But like...how cool is it to say you did the macarena with Andrea to "Party in the USA?"
Moving on to visiting Stephanie—her workout was so cool and well-themed! We danced, marched, and stepped to fill up the bar! Even my 43-year-old dad admitted that her workout was intense! We all needed a drink of water after that! She was so fun and energetic! I loved it all.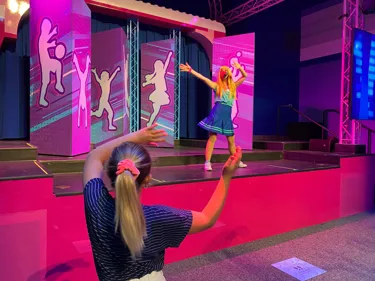 Overall, this event was so fun. I am so grateful for this experience. I hope you all go too! Thank you all for reading and watching me bring you along through Lego Friends Weekends - have an awesome day!