My First Visit to LEGOLAND Florida
Thursday May 13th 2021
SJ Mclendon
Kid Blogger, Theme Park, Hotel, Water Park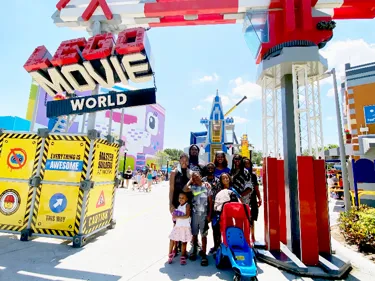 When I arrived at LEGOLAND Florida, I knew this would be a great experience and wonderful memories were going to be made. It was my family's first time and we were celebrating my dad, Steve McLendon of the Tampa Bay Buccaneers, big win!
On my arrival to LEGOLAND, my family and I were greeted with smiling faces and helping hands.
The first thing I did was explore the LEGOLAND Hotel and Pirate Island Hotel. My brothers and I stopped by the seating area to play with some LEGO and talked about all the things we were going to do. We were so excited!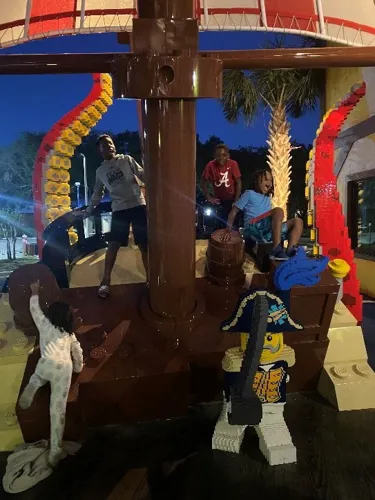 Afterward, we all went to the pool. I  really enjoyed swimming and playing with the LEGO at the pool.
Once we finished swimming, we ate some delicious food at Shipwreck and headed up to our rooms at Pirate Island Hotel. Our rooms were super cool. The most exciting thing about our room was the puzzles we had to solve to open the treasure chest
The next day, we went over to LEGOLAND Waterpark. The first thing I did was hit the wave pool and then I saw the ultimate splash pad and had to check it out!
Once I explored the splash pad, we went over to the slides. I was so scared of the super tall slides but, I conquered two of them and it was awesome.
Flash forward to our third day being at paradise, we went to the theme park to get on rides and enjoy some snacks.
Granny Smith's Apple Fries with ice cream was one of the best treats I had ever tasted. I wish we could go back for some more!
My favorite ride was The Battle of Bricksburg because we got to spray my mom, aunt, and little sister with water from the ride. They also sprayed us with water from the outside, and it was so cold! But it was all super fun.
Overall, my stay at LEGOLAND Florida was amazing - from the food to the attractions!  I would love to go again someday!