Tips for an AWESOME Stay at LEGOLAND Florida Resort
Thursday April 8th 2021
Banks Lee
Hotel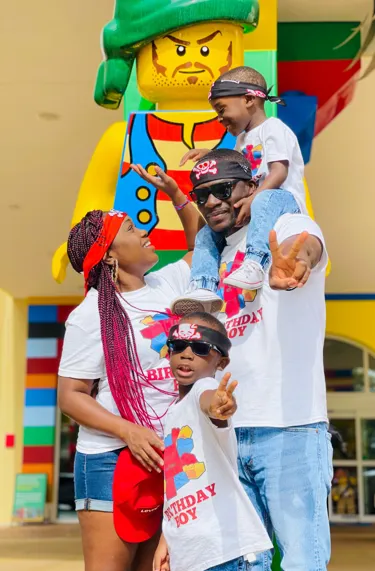 Are you heading to LEGOLAND Florida Resort? I've got to tell you that the fun doesn't stop when the brick-tastic Theme Park and Water Park close each day. 
LEGOLAND Hotel and Pirate Island Hotel have so much fun packed into them, you could spend a whole day there without leaving!  
Here are some tips to OWN your stay. This vacation is going to rock. I bet my bricks on it!  
POOL PARTY
Both LEGOLAND Hotel and Pirate Island Hotel have their own pools that are both heated and full of giant, floating LEGO bricks that you could totally use to dump water on your parents (you didn't hear that from us).  
But did you know that the pools are open to guests staying at both hotels? It's true!  
Even if you are searching for treasure in Pirate Island, you can still head over to the LEGOLAND Hotel's pool and take a ride on that awesome waterslide OVER AND OVER again! 
MINI GOLF SHOWDOWN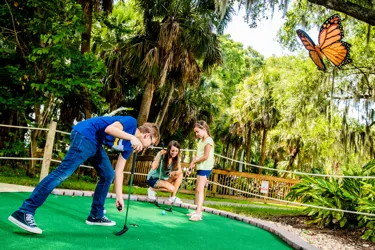 One of our best-kept secrets is right behind the LEGOLAND Hotel: Florida's Wild Side Mini Golf! It's a total hole in one! See what I did there?!  
This 9-hole mini golf course is on Lake Eloise and JUST for hotel guests! Be sure to keep an eye out for some LEGO wildlife during your game – you never know what sort of critters you may see. 
Your parents can register for a round at the hotel front desk.  
FILLING THOSE EMPTY STOMACHS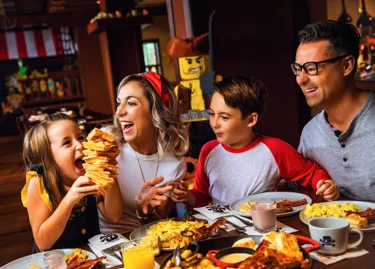 There are plenty of options to keep your tummy full during your stay, including FREE breakfast EVERY MORNING of your stay. Parents will agree that's a pretty sweet deal. Plus, it's UNLIMITED.  
I know right? My brain exploded too. So don't be afraid to ask for some extra LEGO Brick waffles and stack them up to make a tower!  Yes – playing with your food is totally acceptable. 
Enjoying a family-style dinner at Shipwreck Restaurant? It's also all-you-can-eat, so feel free to ask for seconds AND thirds! That mac and cheese, #vacationgoals 
Nothing says vacation like a super-fun-and-fancy drink, right? I mean the fancy drinks made just for kids! Say CHEERS with your parents with a kid-friendly "mocktail" at any of our bars.
I recommend the Birthday Cake Mocktail—it's a special one that's only available this year since we're turning the big 1-0 this year! It even comes with a candle to make your own birthday wish!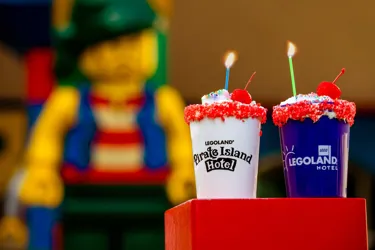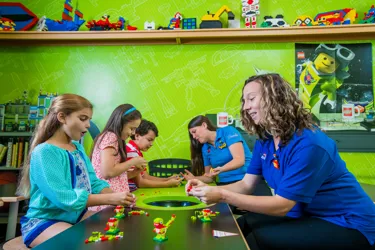 This is personally my favorite part of a hotel stay at LEGOLAND Florida Resort. If you are staying at LEGOLAND Hotel or Pirate Island Hotel, sign up for a FREE Master Model Building Session!  
During these workshops, you will meet real LEGOLAND Master Model Builders as they give you some LEGO bricks and show you how to build an exclusive model that you can take home with you. 
What's more epic than building your own LEGO model at surrounded by millions of LEGO at LEGOLAND Hotel with a LEGO Master Model Builder?
I don't know, really. I'm asking you, because this is #vacationgold 
Best part is that the model changes daily, so if you are staying more than one night, you can sign up each day and get a new model! But heads up, space is VERY limited for these, so be sure to have your parents sign up each day at the front desk. 
And this isn't even everything! 
All of our hotels have games, play zones, surprise visits from LEGO characters, and more. I'm telling you, you'll have FULL VACATION BRAGGING rights and some really cool, fun stories to share with your friends after this vacation! 
Kids, the newsletter information below this is for your parents.  Please do not complete or provide any personal information unless you are at least 13.