4 Must Do's in the Water Park
Thursday March 4th 2021
Caroline Ruthven
Water Park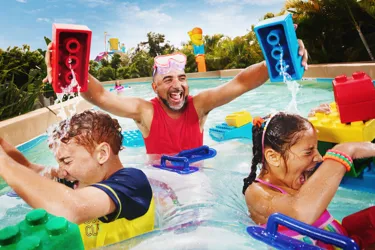 When you're in Florida, it's always the perfect time to enjoy some fun in the sun – especially at LEGOLAND®  Florida Waterpark!  
Here are the 4 must-do's to have an absolute SPLASHTASTIC time at LEGOLAND® Florida Waterpark!  
1. Build-a-Raft Lazy River 
Float along our 1,000-foot-long lazy river with a bricktastic twist. That's right, this is not like any other lazy river. 
 In our Build-a-River, you can snag floating LEGO® bricks floating along with you and build on your tube!  
See how many you can catch and how high you can build a tower on your tube!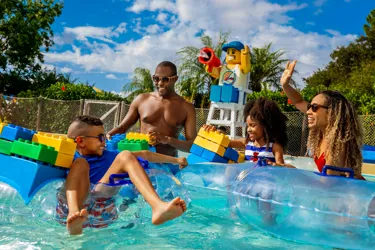 2. Joker

 Soake

r

 
Hope you're ready TO GET SOAKED. Joker Soaker dump 300 gallons of water on you every from a GIANT bucket every 2 minutes. 
This awesome water play area has over 5 slides - yes, you read that right - MORE than 5 slides!  
And watch out, there are a lot of hidden water dumps to get your pals when they aren't looking. 
It is fun for all dudes and dudettes of all ages to splash around - so this is definitely one you and your little brother or sister can enjoy!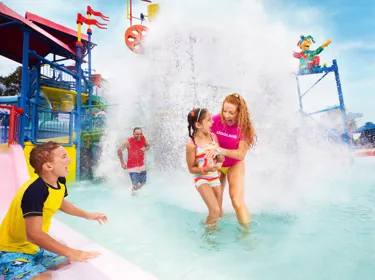 3. DUPLO
®
 Splash Safari
Have you ever played in the water with ELEPHANTS?  
Ok. I haven't either BUT at DUPLO® Splash Safari, you can take a dip with a bunch of DUPLO® animals. 
I always love to slide down with the adorable DUPLO® penguins into the water below!  
4. Twin Chasers

 
You know what they say, two water slides are better than one!  Twin Chasers is the awesomest slide duo in LEGOLAND® Waterpark. 
You know what they say, two water slides are better than one! Pro-tip, TWO riders are better than one, too! On this slide set, you can choose a single or double tube. Word has it that you go faster in a double tube. I always love going double tube with my parents, because nothing is funnier than hearing my dad scream!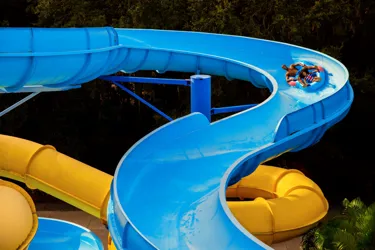 Well, "WATER" you waiting for? Pack your swimsuit and goggles, because you will not want to miss these must-do's next time you're at LEGOLAND Water Park.  
Kids, the information below this is for your parents.  Please do not complete or provide any personal information unless you are at least 13.