A New Legend is Coming to LEGOLAND Florida
Wednesday May 12th 2021
Caroline Ruthven
Theme Park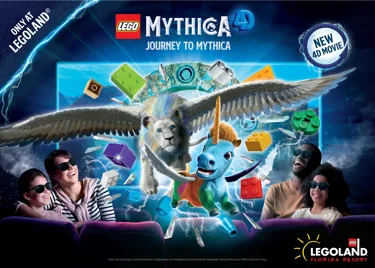 Something epic is coming to the LEGOLAND® Fun Town 4D Theatre at LEGOLAND Florida Resort.  
Early this summer, get ready to "Journey to MYTHICA" -- an undiscovered world where LEGO® creatures come to life. 
That's right, every creature you create from LEGO® bricks comes to life in MYTHICA.  It's an entire world built by the power of your imagination! 
Pretty cool, right? 
In this brand-new 4D show, you get to follow little Alicorn, as he takes his first steps into MYTHICA, encountering mysterious creatures, and soon discovers MYTHICA is in trouble! 
 The world's once-powerful life force has been weakened and the world is dying as fewer and fewer kids (uncool ones, not like you!) have time to create new LEGO® creatures.  
And now MYTHICA's creatures are behaving strangely!  How strangely? Well, let's just say, you better get ready to hold onto your seats.  
Venture through enchanted forests, raging seas, hidden caves, fire, and ice! You even get to come face to face with noble guardians who protect MYTHICA: Winged Lion, a beautiful Fire, and Ice Bird, and a two-headed Hydra.   
"Journey to MYTHICA" is unlike anything you've experience in the LEGOLAND® Fun Town 4D Theatre, so get ready for adventure!