How To Be a Master Treasure Hunter on Lost Kingdom Adventure
Tuesday March 9th 2021
Banks Lee
Theme Park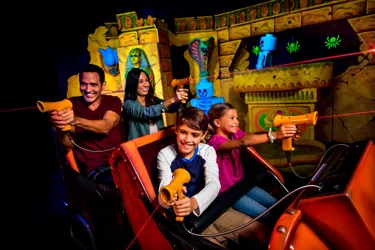 Deep within LEGOLAND Florida lies an ancient Egyptian temple, where LEGO adventurer, Johnny Thunder, needs help rescuing Miss Pippin Reed, and stopping the evil, Sam Sinister, from stealing the hidden treasure of the temple.   
Sound familiar? You may know this adventure as Lost Kingdom Adventure!  
Hop aboard a four-passenger jeep and equip yourself with a special LEGO laser blaster that will help us keep score of all the targets we hit within the temple - and there are plenty of things to aim for! 
But did you know that some targets are worth more than others? 
Have no fear! I am here to help you get ready to achieve the highest score in your jeep! Just be sure to keep an eye out for cobras, mummies, spiders, and booby traps along the way!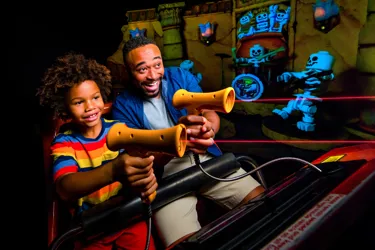 The temple is full of green lights that help show targets to aim your blaster at. These green lights are worth 500 points.  
But don't be so quick to move to another target, some green lights will turn red after a successful hit.  
Red lights are worth 1,000 points, so the more of those you can hit the faster your score will climb! 
You can also UNLOCK special moments you can only see if you and your family or friends in the jeep work together to hit a sequence of targets. 
PRO TIP: when you see Pippin Reed trapped on a spider web, hit all the targets around it to free her and then watch something SUPER AMAZING happen! Talk about teamwork making the dream work! 
Obviously, we can't reveal ALL the secrets within Lost Kingdom Adventure, but check back for more tips in the future.  You're going to have to see it for yourself and discover new targets each time you ride. 
Kids, the information below this is for your parents.  Please do not complete or provide any personal information unless you are at least 13.