LEGOLAND® NEW YORK RESORT LAUNCHES 10TH MERLIN'S MAGIC SPACE IN U.S.A.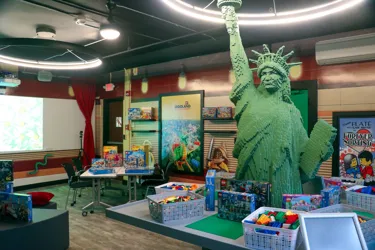 PHOTOS AND VIDEO: http://bit.ly/LLNYR_HONOR
Merlin's Magic Wand and HONOR Unveil a First-of-its-Kind Space for Orange County Families
GOSHEN, NY (January 15, 2021) – LEGOLAND® New York Resort and its children's charity Merlin's Magic Wand unveiled the 10th Merlin's Magic Space in the U.S.A. and 50th in the world today, in partnership with HONOR, a not-for-profit service that provides temporary housing, food and counseling to Orange County residents. Merlin's Magic Wand makes fun accessible to children facing illness, disability or adversity around the world.
"After an extremely difficult year, it's been a privilege for us to deepen our relationship with HONOR and provide Orange County families with an environment in which they can play and enjoy being kids ahead of the grand opening of LEGOLAND New York," said LEGOLAND New York Resort Divisional Director Stephanie Johnson. "Our goal is to bring a taste of the excitement from our Resort to this Merlin's Magic Space and create a first-of-its-kind safe place for children in need in Orange County and the Hudson Valley. We want it to be a place which helps forge new friendships, inspires childhood imagination and confidence, and encourages plenty of active play."
Located within HONOR in Middletown, the new Merlin's Magic Space will serve as a LEGO® play space by day and a movie theater in the evening. The former conference room was transformed by many of the same contractors currently working on the final stages of construction at LEGOLAND New York Resort, which will open to the public later this year. The theme park opening will further elevate Orange County as a top New York State tourist destination and will bring substantial full-time and seasonal jobs, educational opportunities and improvements to community transportation and infrastructure.
"HONOR is humbled and grateful to Merlin's Magic Wand and LEGOLAND New York Resort, not to mention all the contractors involved in creating this Merlin's Magic Space," said HONOR Executive Director Chris Molinelli. "With all the unprecedented challenges in 2020, completing this project was no easy task. Children of HONOR, present and future, will spend many wonderful hours in this incredible interactive play area." 
"We are so excited to announce the launch of the Foundation's 10th project in the U.S.A., and the charity's 50th Merlin's Magic Spaces project globally," said Merlin's Magic Wand Charity Manager Erin Woods. "It is a real testament to the spirit of Merlin Entertainments and the LEGOLAND® New York team that in a year of such challenge and adversity, the magic doesn't stop and many people have pulled together to bring the magic of this highly-anticipated attraction to the children and families supported by HONOR."
"We would like to thank everyone who has worked tirelessly to get this project delivered in time for the new year. Merlin's Magic Wand strives to create magical memories and make it possible for all children to access the magic of Merlin Entertainments. With  each Merlin's Magic Space project we come a step closer to our goal of creating more smiles, giggles and laughs all around the world," Woods said.
When it opens in 2021, LEGOLAND New York Resort will take guests on a journey through seven LEGO® themed lands on more than 150 acres in Goshen, New York. The family theme park will be open seasonally, typically from early spring through late fall. Also opening in 2021 will be a 250-room LEGOLAND® Hotel, which will welcome guests year round.
For more information about LEGOLAND New York Resort, visit our website or follow us on Facebook.
About Merlin Entertainments
Merlin Entertainments is a global leader in location-based, family entertainment. As Europe's number one and the world's second-largest visitor attraction operator, Merlin now operates more than 130 attractions, 19 hotels and 6 holiday villages in 25 countries across four continents. Merlin's purpose is to deliver memorable experiences to its 67 million guests around the world, through its iconic brands and multiple attraction formats, and the commitment and passion of its 28,000 employees (peak season).
About HONOR
HONOR, Helping Others Needing Our Resources, has been providing help to Orange County's most vulnerable since 1974.  Located at 38 Seward Avenue in Middletown, New York, HONOR provides temporary housing through their homeless and runaway shelters as well as many other support services including food pantries, case management, and housing programs.  For more information, we encourage you to visit www.honorhelpingothers.org.  If you know of someone who may be in need of assistance, please call 1-845-343-7115.  
See www.merlinentertainments.biz for more information and follow on Twitter @MerlinEntsNews.