More Time to Explore the Park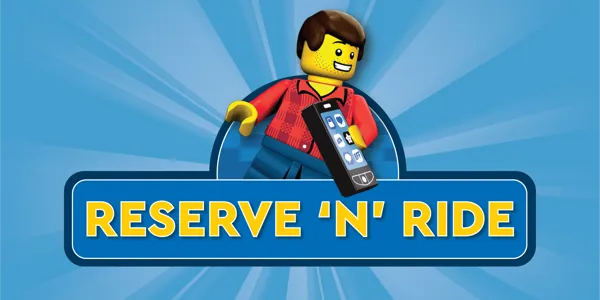 Reserve 'N' Ride
Reduce your virtual wait 90% of the physical queue time

Attractions and Rides Included:

Brick Party

​

DJ's Dizzy Disco Spin

​

Duplo Express

​

LEGO® Factory Adventure Ride

​

LEGO® Ninjago The Ride

​

Jay's Gravity Force Trainer

​

Merlin's Flying Machines

​

Dragons Apprentice

​

The Dragon

​

Tower Climb Tournament

​

Driving School 

​

Jr. Driving School

​

4D Palace Cinema - Advanced Seating

​

Fire Academy

​

Anchors Away!

​

Splash Battle

​

Rogue Riders

Each Guest must have their own RNR Pass. These are not family passes​
How does Reserve 'N' Ride work?
Reserve & Ride is a system that queues for you, leaving you more time to explore the park!
Using your mobile phone, Reserve & Ride enables you to virtually wait a rides queue time, freeing you up to visit other attractions, shops and restaurants in the park while you are waiting your turn. 
Please note that numbers are limited, so we encourage you to pre-book your Reserve & Ride ahead of your visit.
Get the most out of your day - Enjoy the park at your leisure and when your virtual wait is over, simply go to the ride's Reserve & Ride Entrance.
Lets you choose – make reservations from a choice of up to 15 attractions.
Easy to use - using your mobile phone, rides can be booked from anywhere in the park.