How to Get The Shoppers Pass
Thursday November 10th 2022
News, Tips & Tricks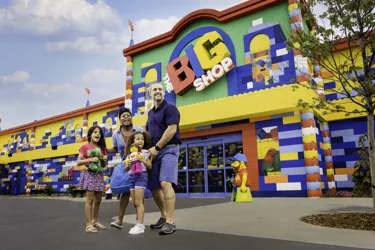 Shop 'til you drop! Did you know LEGOLAND New York Resort offers a Shoppers Pass?
The Shoppers Pass allows guests to come into the Park ONLY to shop! Ever wanted to visit The BIG Shop to get your favorite LEGO sets or LEGOLAND apparel but not pay full price for an admissions ticket? Well, you can with a Shoppers Pass!
Here's how to use the Shoppers Pass:
Visit the Admission Ticket Windows on a Park Open day and let a Model Citizen know you would like to purchase a Shoppers Pass
Pay the full cost of Admission for the Shoppers Pass and head to The BIG Shop* to shop for one hour.
Return to Guest Services before your one hour is over to have the full Admission Ticket cost refunded to you!
No need to pay for parking on your way out!
It's that simple!
Don't miss out on purchasing exclusive hard-to-find or brand-new sets! We also carry apparel for kids and adults, stationery, and other items unique to LEGOLAND New York Resort. Be sure to check out our limited-time Holiday items!
Check out our operating calendar to find our next Open day so you can get your Shoppers Pass!
*The Shoppers Pass is only eligible for shopping in The BIG Shop.