Name the Ice Cream Flavor | CONTEST
Friday May 21st 2021
Contest, LEGO City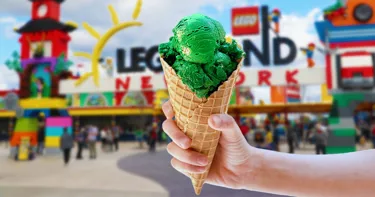 There are lots of tasty treats to try at LEGOLAND® New York Resort. From Granny's Apple Fries to freshly made cookies, there are many options to satisfy your sweet tooth! And the list wouldn't be complete without ice cream!
A La Mode – The Official Ice Cream Partner of LEGOLAND New York Resort – has created some awesome LEGOLAND Exclusive flavors. However, one of them does not have a name as sweet as it is!
We need your help coming up with a name! 
This delicious dessert is found only in LEGO® City at the Granny's Apple Fries stand (which will open later this summer!). The ice cream is apple flavored with vanilla wafer cookies. It is the perfect companion to the LEGOLAND favorite treat: Granny's Apple Fries!
The winner will receive a frozen treat from A La Mode!
The contest will close on May 31st at 11:59pm EST. Best of luck!
About our Official Ice Cream Partner, A La Mode! 
Located in NYC, A La Mode offers handcrafted, small-batch ice cream in a nut-free facility offering gluten-free and dairy-free option shipped directly to you. Their goal is to provide children and adults alike with the delicious, joyful, and safe experience of sharing ice cream together.