How to Make Granny Smith's Apple Fries at Home
Tuesday March 23rd 2021
Chef Derek Orris
Theme Park, Food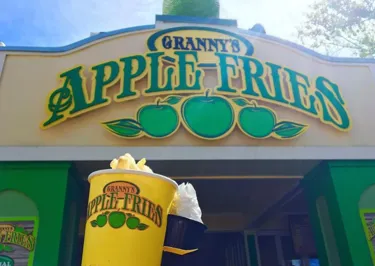 You rode the coasters. You met Emmet. You even took a dip in the wave pool. But if you ask me, a trip to LEGOLAND Florida isn't complete without Granny Smith's Apple Fries.
YES – I said APPLE fries. These sweet treats are a big fan-favorite and pretty famous around the country. Seriously, who knew apples could be so yummy?
But guess what? You can bring a little bit of LEGOLAND Florida home with you and make our apple fries in your own kitchen.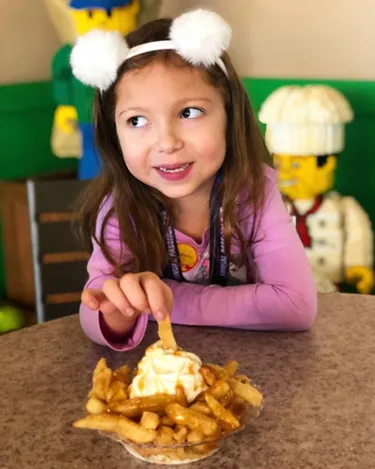 But before you start asking Dad and Mom for a trip to the supermarket, you have to promise me one thing?
You need to have your parents help you make this recipe. Think of it as a family project!
Here's what you'll need for a personal batch:
1 Granny Smith Apple
1 quart of canola oil
½ cup of corn starch
½ oz cinnamon sugar
Now remember, you promised me that your parents will be helping you, so make sure they are with you throughout the WHOLE process.
Now, get your chef hat ready. Here are the steps:
Step 1: In a deep pot, have Mom or Dad heat 1 quart of canola oil to 350 F. That's VERY hot so be careful!
Step 2: Make sure Mom and Dad stick around to help you peel and core the granny smith apple. Then cut the apple into ¼ inch French fry-shaped slices.
Step 3: Place your apple fries into a mixing bowl and add ½ cup of cornstarch.
Step 4: Now this part is fun - toss the fries GENTLY in the bowl to make sure they are fully covered with corn starch.  Just be careful not to break them.
Step 5: Once the fries are completely covered, have Dad or Mom help you (Or maybe just mom and dad on this one due to splashing that can occur) slowly place your fries into the oil and allow to cook for 30 seconds.  Make sure to move the fries around to avoid having them stick to the pot! Finish cooking for a 2 more minutes
Step 6: When they are finished cooking, remove your fries from oil. You will want to shake off any extra oil, and place them into a clean mixing bowl.
Step 7:  Immediately dust your fries with ½ oz of cinnamon sugar. You can even add in sound effects to make this part more fun (or...maybe I'm the only one who does this?)
Step 8: Ok. Get ready. This part is my FAVORITE. Serve your apple fries fresh and get ready to eat. You can even add caramel and ice cream to give your fries even more LEGOLAND Florida fun to your feast.
Now that you have the steps, you can become everyone's favorite chef (well, besides me, right?) and enjoy a taste of LEGOLAND Florida at home!
Kids, the newsletter information below this is for your parents.  Please do not complete or provide any personal information unless you are at least 13.
Related blogs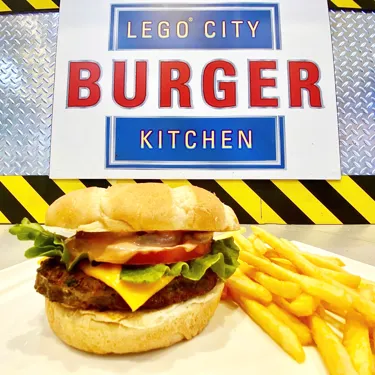 New Burgers? Who This?
LEGO City Burger Kitchen Restaurant is cooking up some NEW meals you need to try!
Related blog posts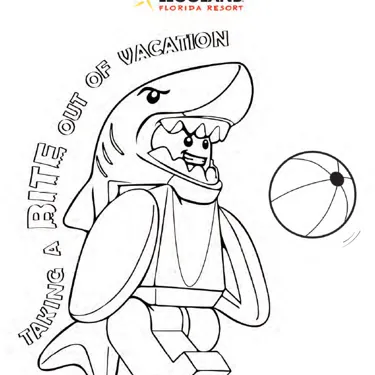 Coloring Sheet: LEGO® Shark Suit Guy
Take a bite out of vacation with LEGO® Shark Suit Guy
Related blog posts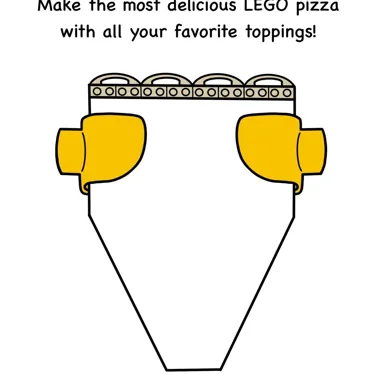 Design Your Dream LEGO® Pizza
Color a slice of your DREAM PIZZA with this activity sheet!
Related blog posts