Can't Miss Thrills at LEGOLAND Florida Resort
Monday January 25th 2021
Heather Concannon
Theme Park, Water Park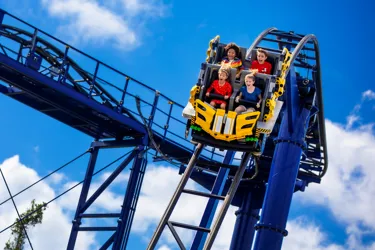 Coasters. Water Slides. Stunts.  
Woah. Dude. It sounds like you've got the need for SPEED and THRILLS. 
If you're looking for some wild rides that will even make your parents scream, we have just the thrills for you! Here's our guide to all the can't-miss moments for thrill-seekers of all ages, at LEGOLAND Florida Resort 
COASTERSAURUS

 
Hold onto your hats! Adventure awaits you on Coastersaurus. 
This wooden coaster is a LEGOLAND Florida fan-favorite, swerving, curving, and dipping around a 1,365 foot long jungle full of life-sized LEGO brick dinosaurs.  
And although sitting in the front row of Coastersaurus is a wild time, did you know that sitting in the very back row can make this coaster feel even faster?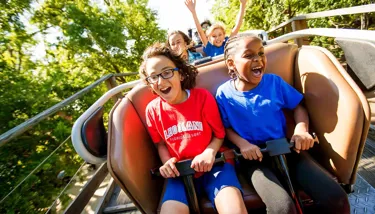 BRICKBEARD'S WATERSPORTS STUNT SHOW 
Brickbeard's Watersports Stunt Show stars fierce pirates and 15 unbelievable stunt performers, who speed up to 40 mph performing EPIC stunts, jumps, and flips.  That's as fast as your parents drove into the park!  
The show also includes an all-new flyboard act, that soars over 40 feet above the water! That's more the SAME heigh as COASTERSAURUS!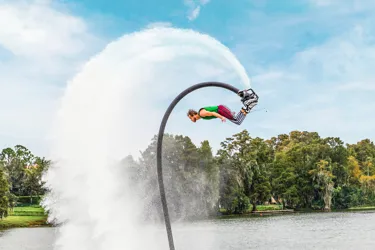 BATTLE OF BRICKSBURG

 
Do you like water rides? Do you like a challenge? Do you want to save the day? 
If you answered yes to any of these, then put your game face on for Battle of Bricksburg. 
Nothing is more intense than getting to defend Bricksburg by spraying the evil DUPLO alien invaders with water cannons.  
Plus - did you know that riders aren't the only ones in on the battle! There are water cannons all around the outside of the ride, so, even if you're not ON THE RIDE, you can help spray the invaders and save the day.  
But you might want to warn your little sister or brother on this one, because trust us when we tell you - you will get soaked.  
(But that's the best part – right?)
THE GREAT LEGO® RACE  
Get ready to start your engines and put the AWE in AWESOME on The Great LEGO® Race.  
With speeds of over 55 mph, sudden drops, hairpin turns, and tons of OMG moments, this exciting coaster is an absolute must-do that you'll want to ride again and again.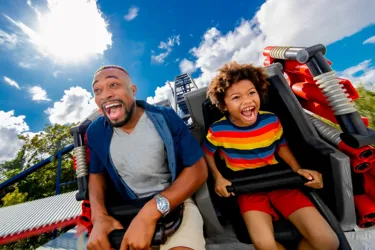 SPLASH OUT

 
If you thought our theme park was full of thrills, then get your swimsuit on and prepare to splash down at our water park - especially on our 60-foot water slide, Splash Out.  Did you know that is JUST AS TALL as Pirate Island Hotel?  
Decide between three water slides that speed you down into the water below. It is like choose your own adventure, but no matter which you pick, you're going to want to scream! 
LEGO

®

 WAVE POOL

 
Surf's up, dudes! Catch some HUGE waves in our very own, LEGO ® Wave Pool.  
You can even spot a MASSIVE LEGO® Shark made of 248,642 bricks, lurking above. But don't worry! He's a brick-a-tarian. 😉  
Well, I don't know about you but I'm ready to get my THRILL on. But there are SO many other AWESOME rides and shows but we'll have to save that one for another day! 
Kids, the newsletter information below this is for your parents.  Please do not complete or provide any personal information unless you are at least 13.
Related blogs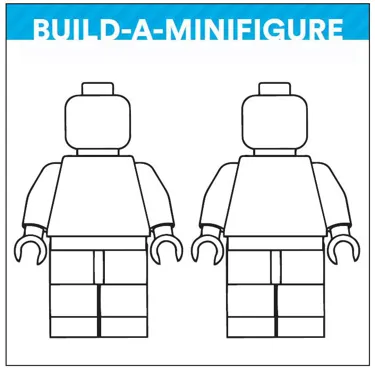 Design Your Own MINIFIGURE
What does your dream MINIFIGURE look like? Time to create your own!
Related blog posts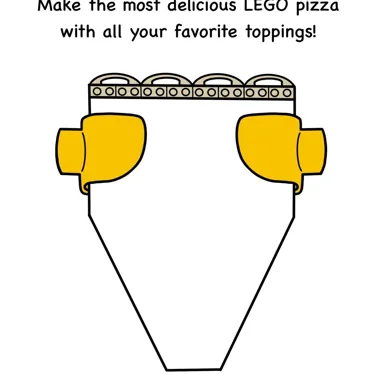 Design Your Dream LEGO® Pizza
Color a slice of your DREAM PIZZA with this activity sheet!
Related blog posts