Winning Submission for "Name the Big Red Dino" Contest
Wednesday March 31st 2021
Brick Street, Contest

When you enter LEGOLAND® New York Resort, you are greeted by a friendly face -- the Big Red Dino on Brick Street! When it first hatched, it never received a name. Thanks to our guests, it now has one. 
We received over 5,200 awesome names but could only choose one. After a long judging process, it was narrowed down to only a few and our Model Citizens voted for their favorite. 
When you enter Brick Street, you can wave hello to the dino and address it by its new name: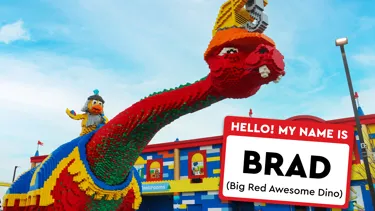 BRAD (Big Red Awesome Dino)
Special thanks to Luke D. for the amazing name and awesome acronym!
Be sure to stop by, say hi, and take a pic with BRAD on Brick Street!