Get ready for the Water Playground!
Monday May 15th 2023
Tips & Tricks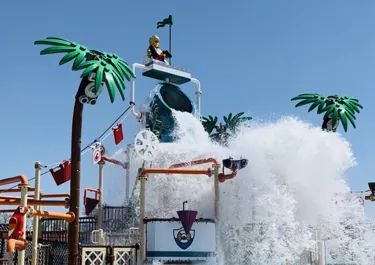 Memorial Day weekend is the unofficial start of summer … and the official opening of our brand-new Water Playground!  
Here's what you need to know to have a splashtastic time on our latest and most awesome attraction! 
Reserve Your Time Slot! 
Capacity for the Water Playground is limited, so to ensure everyone has the most awesome experience, you'll need to reserve a 20-minute time slot. It's free and easy! Just visit our Reserve 'n' Ride portal on the day of your visit – reservations open at 7 a.m. 
You'll want to arrive 10-15 minutes early for your time slot. Come with your bathing suit on and your sunscreen applied! Our Model Citizens will scan your reservation and you'll be good to SPLASH! 
Come Prepared to Get Wet! 
You'll be doused by a 318-gallon water bucket, so prepare to get wet – and bring a towel! (Don't worry, changing areas are nearby, as well as a paid drying station.) 
Coast Guard certified flotation devices are welcome in the Water Playground. You can bring your own or use one of ours at no charge! 
Slide Into Fun! 
The Water Playground has four water slides for you to enjoy! The two lower ones are perfect for smaller kids (between 36" and 40" tall).  
Sail the Seven Brick Seas! 
Don't forget to check out the Build a Boat section! We provide the base and the bricks … you provide the creativity! Then set your creation afloat and imagine yourself sailing the Seven Brick Seas! 
For more information about our Water Playground, visit the "Rides and Attractions" section of our website. We'll see you in the Park!