7 Ways to Ride Out the Rain at LEGOLAND New York!
Wednesday June 22nd 2022
Things to Do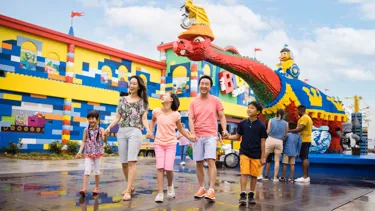 Coming to LEGOLAND New York is always a great way to spend your day, but mother nature can be unpredictable. Have no fear, LEGOLAND New York has many fun activities to do: rain or shine! Here are some of our favorite to-dos when the weather is not going your way!
1. Master Spinjitzu on LEGO® NINJAGO® the Ride
If you're practicing your Spinjitzu with Kai and it begins to drizzle, head inside to LEGO® NINJAGO® the Ride! Master Wu will teach you all the skills to become a master of the elements. As you learn the skills with your fellow teammates, be careful the Great Devourer is attempting to attack, and it may come down to your skills to save the World!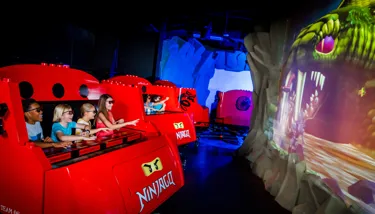 2. Join the Builders Guild!
If you are a visiting knight or princess exploring the LEGO® Castle courtyard in inclement weather, please take refuge at Builders Guild where you can use your considerable skills to help the king fortify and furnish his castle!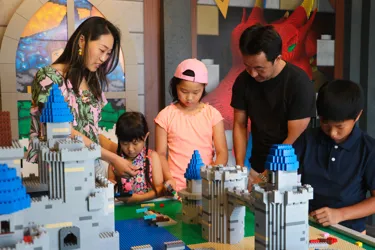 3. Watch a show at Palace 4D Cinema
If it begins to rain after you have just helped Detective Trace solve his case, take shelter in our Palace 4D Cinema. With one of our three 4D shows playing every twenty minutes, there is no shortage of entertainment to keep you busy till the sun comes back.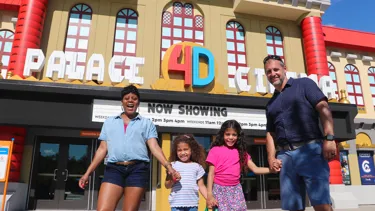 4. Shrink down to Minifigure size on The LEGO® Factory Adventure Ride!
There are so many fun things to do in Bricktopia: rain or shine. The LEGO® Factory Adventure Ride is a fantastical indoor dark ride! Take a seat as you get magically shrunk down to LEGO size and get immersed in the creation of LEGO bricks.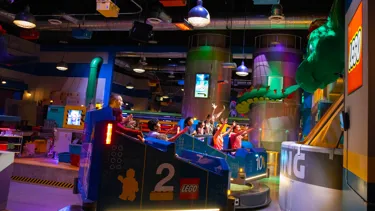 5. Shop 'til the rain stops in The Big Shop!
Come inside and visit the Big Shop where you can explore exclusive LEGO sets, hard-to-finds, and other fun items! It's not all shopping though. There is something for everyone as you can take a test to discover what Minifigure you are as well as experience one of our mini-build experiences!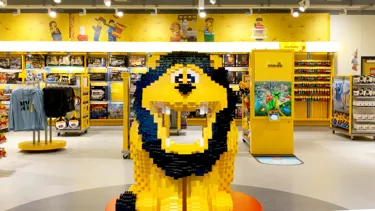 6. Build in Bricktopia!
If you are looking to ride out the rain and test your skills as a Master Builder, the best place to learn the skills you need is at Creative Workshop and Build and Test located in Bricktopia. At Creative Workshop, you can take part in one of six classes taught by one of our trained educators that will teach you how to incorporate your creativity and storytelling with S.T.E.A.M education to make some awesome creations. If you miss out on a class, don't fret! Right next door is the fantastic Build and Test - where you can build your own racecar and construct your own skyscraper!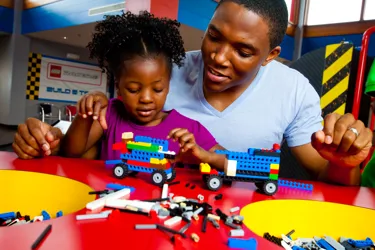 7. Take a seat and grab a bite to eat!
Waiting for the rain to pass can make you hungry, so stop by one of our restaurants! Smokey's Brick-B-Que (Bricktopia), Brickolini's Pizza & Pasta (LEGO City) and Brickbeard's Market (LEGO Pirates) are all sit down food spots! Enjoy some barbecue, delicious pizza, and more at one of these locations!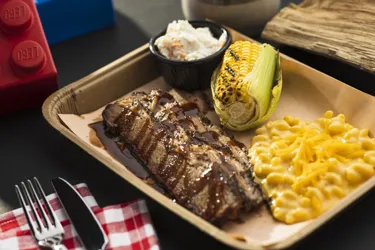 These are just a few things to-do while you wait for the rain to go away! Enjoy your bricktastic day at LEGOLAND New York!