At LEGOLAND®  Florida Resort, we love Minifigure Trading! Have you seen a Minifigure on a Model Citizen's Brick Badge that you LOVED? Did you know that you may trade for it?*
Minifigure Trading is an AWESOME and unique aspect of the LEGOLAND Parks and it's as easy as one, two, three!
*Minifigure must be complete with a head, body, and legs, in order to be traded.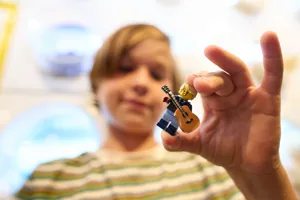 STEP 1 – Bring or Buy a LEGO®  Minifigure to Trade
Whether you bring one from home or buy one from our retail shops, you may trade any LEGO Minifigure! It can be old and worn or new and shiny. However, they must be LEGO Minifigures and traded in complete form, including head, torso and legs. That goes for our Model Citizens, too!  
*LEGO® Friends Minifigures cannot be traded as they don't stick to employee brick badges.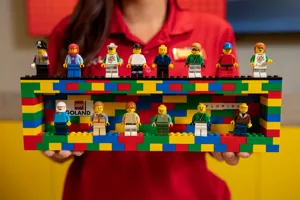 STEP 2 - Find the Minifigure you want to trade for! 
Trade a complete Minifigure with any Model Citizen across the Resort or at a designated Trading Post. We have Minifigure Trading Posts across the Resort, like LEGOLAND Story! Here you can swap your minifigure with the minifig trading wall where a variety of different Minifigures await you!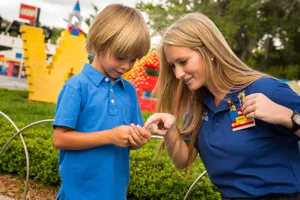 STEP 3 - Trade! 
With your own Minifigure in hand, you may ask a Model Citizen to trade! (Don't worry, they'll say yes!) They get your Minifigure for their Brick Badge, and you get that new one you've had your eye on!  
And the best part? You may trade again and again!  
Top Tips for Minifigure Trading
SAY HI TO TEAM MEMBERS ACROSS THE RESORT AND TAKE A LOOK AT THEIR NAME BADGES TO SEE IF THERE ARE ANY MINIFIGURES YOU WOULD LIKE TO TRADE FOR.
Keep an eye out for when new minifigures are released. Then, plan your visit so you can trade for new minifigures.

Tell us about your trade! Show off your new minifigures by posting photos of them on Instagram and Facebook. Make sure to use #LEGOLANDFlorida.

Keep a list at home of the minifigures you want so you don't forget.

If you are too busy exploring the Park, riding rides, and playing with LEGO, ask your family to keep an eye out for cool minifigures to trade.

Keep the minifigures you want to trade in a special bag or wallet so you can easily grab them on your way to visit LEGOLAND Florida Resort.

Can't find a minifigure you are looking for? Ask any of our Model Citizens – maybe they know who has one!