Show
GO Xtreme! - Premieres June 17
Inspired by the LEGO® City hit TV show, this new performance features gnarly extreme sports stunts that'll have guests on the edge of their seats. Hold your breath and witness the BMX riders, scooters, and skateboarders flip and soar into the air. You'll even have the chance to help the fun-loving judges decide which performances are best.
Show
The LEGOLAND Summer Jam
Enjoy fun in the sun listening to your favorite hits from all the eras in this all-singing, all-dancing summer fest concert. The LEGOLAND Summer Jam features the LEGOLAND Brass Band with special guests LEGO® Banana Guy and LEGO® Rocker.
Show
Pirate Captain's Swashbuckling Jig
Arrrgh! Join Pirate Captain and his crew as they travel through Pirate Shores. Help find the missing key to open the treasure chest. Oh, and watch out for those cannonballs!
Show
Once Upon a Brick
The Tale of the Unicorn Knight: This silly slapstick comedy "Once Upon a Brick" is sure to make all guests giggle and smile. Visit the Castle Stage to see Kingdom characters like the King or the Unicorn Knight come to life in this interactive storytelling show.
Show
Benny's Dance Party
Head over to Benny's Dance Party to join the astronaut crew in this energetic, fun-filled show. It's going to be a blast!
Show
School of Spinjitzu
Witness the kicks and tricks of ninja masters! Learn to kick, chop, spin, and balance just like a Ninja Master in this interactive martial arts style show.
Show
The Awesome Suit Crew
The Awesome Suit Crew welcomes visitors into the Park with live mashups of current songs with an 80s twist. They're sure to kick off the day in like, a totally awesome way!
Show
DJ Brick Beatz
The perfect cap to a fun day at the Park, DJ Brick Beatz will leave visitors singing techno tunes. This is the chance for kids to showcase the latest dance crazes.
Show
LEGO® MYTHICA 4D Journey to Mythica
Experience the 4D movie and be immersed into the world of LEGO® MYTHICA, as you encounter enchanted forests, raging seas, hidden caves, fire and ice! Temporarily Closed (4/24/2023- 5/29/2023)
Theme Park, LEGO® Show Place Theater
Show
LEGO® NINJAGO® Master of the 4th Dimension
Join your favorite NINJAGO heroes at a very special dojo training session exclusively here at LEGOLAND! Become part of the 4D action as Master Wu prepares the ninjas to take on the teachings of the mysterious 'Scroll of the 4th Dimension' but with disastrous consequences. Kai, Nya, Lloyd, Zane and Cole find themselves in a whole heap of trouble for not only them, but for the whole universe! LEGOLAND needs YOU to help harness the power of the elements in this amazing 4D experience that will leave you in a spin! Temporarily Closed (4/24/2023- 5/29/2023)
Theme Park, LEGO® Show Place Theater
Show
SEA LIFE Aquarium Shows & Feeding Times
Your child's first interactive guide to the life of the sea, SEA LIFE Aquarium combines active hands-on learning with fascinating educational talks and up-close encounters with sea creatures including sharks, octopi and rays!
SEA LIFE®, Aquarium
Show
The LEGO Movie™ 4D A New Adventure
Exclusively at LEGOLAND, "The LEGO Movie™ 4D A New Adventure" follows a new journey for Emmet, Wyldstyle, Unikitty, Benny and MetalBeard after they receive a mysterious invitation leading them to a new theme park where all of the rides are based on the characters' adventures in "The LEGO Movie." Temporarily Closed (4/24/2023- 5/29/2023)
Theme Park, LEGO® Show Place Theater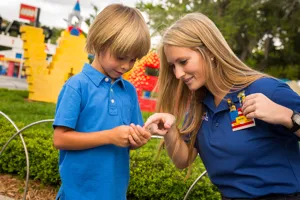 Minifigure Trading
At LEGOLAND® California Resort, we love Minifigure Trading! Have you seen a Minifigure on a Model Citizen's Brick Badge that you LOVED? Did you know that you may trade for it?
Minifigure Trading is an AWESOME and unique aspect of the LEGOLAND Parks and it's as easy as one, two, three!
Learn More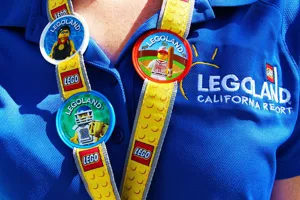 Pop Badge Collecting
LEGOLAND® pop badges can be found across the Resort at different rides, attractions, experiences, and retail shops!
Learn More