HIRING NOW
Earn Awesome Benefits! Build Awesome Memories! Make an Awesome Difference! We have two fantastic LEGO themed Hotels, a Water Park, a SEA LIFE Aquarium, more than 60 rides and attractions, 20 food & beverage locations, and 14 retail stores - the opportunities are endless! Join our team and enjoy competitive wages, passes, discounts, and flexibility. Let's Make Awesome Happen!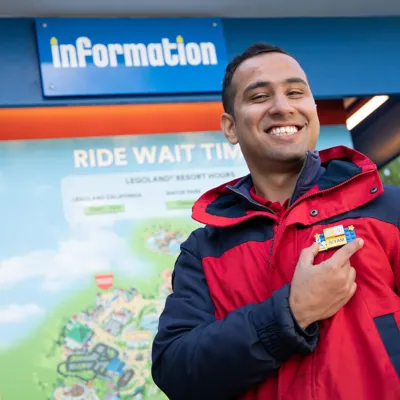 HIRING FAIR! Let's Go!
HIRING EVENT will be May 13th & May 21st at 5886 THE CROSSINGS DRIVE, CARLSBAD, CA 92008
10:30am to 1:30pm
Walk Ins Welcome
Job offers made on the spot! Pay starting from $16.50 per hour.
Immediate Openings for:
LIFEGUARDS - $200 SIGN-ON BONUS!
RESORT OPERATIONS (Enjoy Multiple Roles) - $200 SIGN-ON BONUS!
LINE COOK / COMMIS CHEF - $400 SIGN-ON BONUS!
CHEF DE PARTIE - $400 SIGN-ON BONUS!
PARK FOOD & BEVERAGE - $400 SIGN-ON BONUS!
ATTRACTIONS
ENTERTAINERS
& MORE                                                               
Entertainment Auditions Sign Up Here
Hourly wages up to $20 for select positions.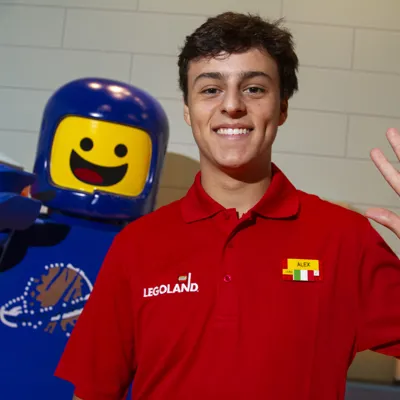 Open Interviews Monday - Friday
3PM – 5PM – Walk Up's Welcome!
We're hiring on the spot! Join us weekdays from 3pm to 5pm at the LEGOLAND® California Resort Recruitment Office for a variety of positions available: food and beverage, resort operations associates, ride operators, character performers, and more!
Join Our Team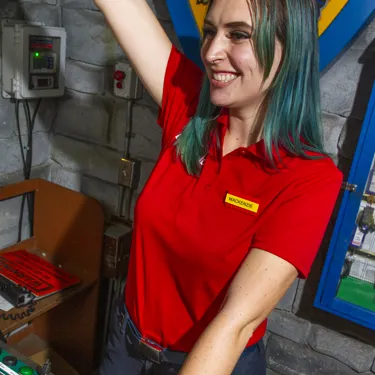 Attractions
Ensure guests safely enjoy attractions. Follow ride operating procedures. Instruct and communicate with guests. Check rider height and screen for restrictions. Ensure safety protocol adherence.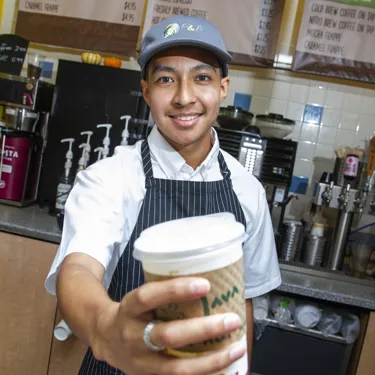 Food & Beverage
Offer friendly and efficient service to all guests in a timely manner. Process guest orders and ensure accuracy in preparation. Learn and adapt to a variety of line positions related to guest service and food quality.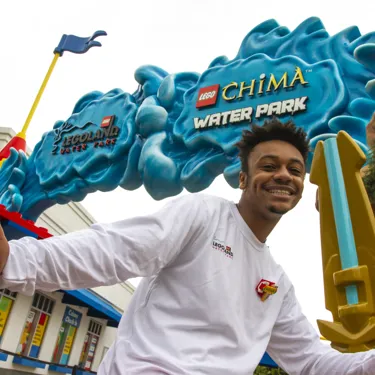 Lifeguard
Provide a safe environment for guests and colleagues. Follow health and safety protocol with guest service in mind. Perform all lifeguarding skills based on IAM StarGuard criteria. Maintain waterpark and pool facilities and related equipment.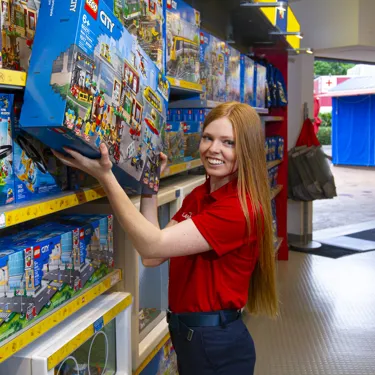 Resort Operations
Provide guests with an awesome first and last impression. Complete tasks in assigned area efficiently and safely. Perform a variety of duties related to general business operations and guest services.
Health, Dental, and Vision Plans: At LEGOLAND, the health and safety of our MCs is our number one priority. We offer health, dental and vision insurance plans for full time MCs.

401K: To make every dollar count, all Model Citizen's age 18 or older are eligible to participate in our company-matched 401K plan following six months of employment.

Merlin's Magic Pass: After 6 weeks of employment you will receive 20 free tickets for your family and friends to visit any one of our Merlin attractions globally, and 40 tickets every year after 1 year of employment!
Resort Retail and F&B Discount: A 30% discount on all retail, food, and beverage in the Resort.
Perks at Work: All of our employees have access to the benefits portal Perks at Work where you can find discounts on movie tickets, retail, restaurants, and more!
24 Hour Fitness Discount
Merlin Hotel Discounted Stay: As a Merlin employee, you are welcome to visit other Merlin hotels and stay at a discounted rate, to experience everything they have to offer! Alton Towers, Thorpe Park, Chessington World of Adventure, LEGOLAND Billund, LEGOLAND Windsor, LEGOLAND California, Heide Park, Gardaland and Windsor Castle are all included!
Full-Time and Part-Time Family Annual Pass: Full-time MC's who have completed 30 days of employment, and part-time MC's who have completed 2 continuous years of employment are eligible to apply for Family Annual Passes! This great perk is for immediate family only (including your spouse and your children/stepchildren under age 18 only.)
Knott's Berry Farm, Universal Studios, and San Diego Zoo & Safari Park discounts!
Plus more – we have a host of exclusive LEGOLAND benefits with offers and discounts with a range of local business
WORKING FOR MERLIN
The LEGOLAND® California Resort is part of Merlin Entertainments and we're the number 1 entertainment business in Europe and number 2 globally. LEGOLAND is just one of the brands that are part of the Merlin family. There are many attractions globally including SEA LIFE, Madame Tussauds™ and so much more! There are literally hundreds of attractions around the world. (And yes – our employees do get free tickets!)
CORPORATE SOCIAL RESPONSIBILITY
Merlin's Magic Wand
LEGOLAND® California Resort's primary concern is for children. We are delighted to support Merlin Entertainments' special children's charity – Merlin's Magic Wand – who put the magic back into the childhoods of seriously ill, disabled and disadvantaged children across the world. By providing tickets and financial support in the form of travel grants, they help thousands of children and their families to have magical days out every year. For children who are too unwell for a day out, they deliver the magic to the children with projects ranging from sensory rooms to specially adapted playgrounds.
To find out more about Merlin's Magic Wand, the eligibility criteria and how you can apply for tickets to LEGOLAND California, please visit www.merlinsmagicwand.org Please note that Merlin's Magic Wand works directly with children, families and organizations that will benefit from a day out and is unable to provide tickets to assist with fundraising through raffles and auctions.
Green Wave
LEGOLAND® California Resort has made multiple upgrades to become an eco-friendly business and continues to be committed to providing the best family theme park in the United States while optimizing recycling, water conservation, and other earth-conscious management techniques.
In 2007, we launched the innovative "Green Wave Committee," which is an oversight group of Model Citizens (employees) from all departments in the Park, including landscaping, marketing, operations, and events. These Green Wave Committee members provide ideas, direction, and promotion in the continuing efforts to create a clean, eco-friendly environment for kids, families, and Model Citizens to enjoy.
LEARNING & DEVELOPMENT
We're proud of our engaged and participatory workforce who help out and go the extra mile for our guests and fellow employees every day! We want you to grow through education, recognition and leadership, turning your skills into a career with LEGOLAND California Resort and Merlin Entertainments! Our Learning & Development team is directly involved with facilitating employee training, collecting feedback and running incentive programs. We offer consistent engagement opportunities, employee rewards, special events, and communication tools such as:
Monthly training calendar – including courses on many topics from guest service excellence standards, payroll and leave-of-absence compliance, effective coaching styles PLUS MORE to build your connections and expand your toolkit of work skills
New Hire & Rehire orientation – this interactive, full-day course (or short refresher course for our returning employees) covers everything you need to know about starting employment with us. Featuring a VIP park tour before reviewing the origins of LEGO, our company values and the employee perks we offer (plus hands-on build activities with LEGO product) ...this is one orientation you won't soon forget!
Feedback & Communication tools – a revolutionary employee app, a variety of anonymous hotlines and our open-door policy ensure YOU will feel your ideas and suggestions are listened to! We love empowering our employees to spark new ideas and share their best practices to help us all work together effectively to overcome challenges and meet our collective goals. Our employees are the eyes and ears in each department and we want to hear from YOU!
Awards & Special Events – whether it's a summertime family picnic, receiving a nomination for a STAR of the Month Award or one of the MANY amazing prizes raffled off year-round, we always have FUN events and contests open for everyone to participate in. We know the importance of showing appreciation to our superstar employees who make LEGOLAND California Resort the best place to work!
Frequently Asked Questions
Can I apply for more than one position?

Absolutely! We recommend applying for any positions that interest you. However, please make sure to only attend one interview at a time.             

How old do I have to be to work at LEGOLAND?

All employees must be above 16 years of age, and some positions require 18 and up.

How much to the positions at LEGOLAND pay?

Most of our positions start at minimum wage, but wages may vary dependent on the role.

What kinds of jobs are available at LEGOLAND?

We have seasonal, part time, and full time positions available!

Is there a dress code for LEGOLAND employees?

Most of our employees wear wardrobe! You will learn about what this means for you at Resort orientation.

Where will my interview take place?

Most interviews will be held at LEGOLAND California Resort. You will be contacted by a recruiter for specific directions to our employee parking lot.

What can I expect after being offered employment at LEGOLAND California Resort?

You will attend an Offer Session and Orientation before starting in your specific position.

I am a full time student, but I also want a job. Am I able to do both?

YES! We are great at working with and around school schedules, and encourage students to apply.