LEGOLAND® Hotel Amenities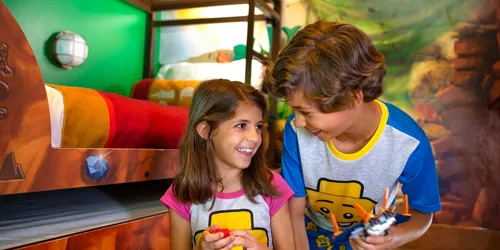 LEGO® Play
Enjoy interactive LEGO features throughout the Hotel, including a disco elevator, a castle pirate ship play structure, and more! Plus, you'll find a bucket of LEGO bricks in your room to build your own LEGO creations during your stay.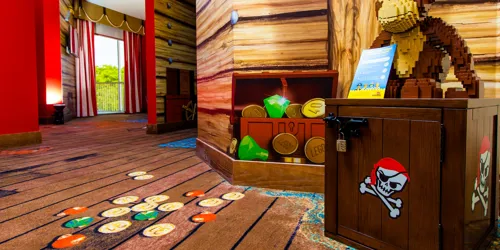 Welcome Treasure Hunt
Search for clues throughout the Hotel to find the secret combination for the treasure chest in your room. Unlock it to discover a special LEGO surprise inside daily!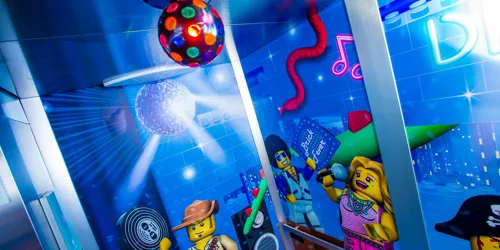 Nightly Themed Kids' Entertainment
The fun awaits with LEGO Character Meets & Greets, Dance Parties, Games, Story Times, and more!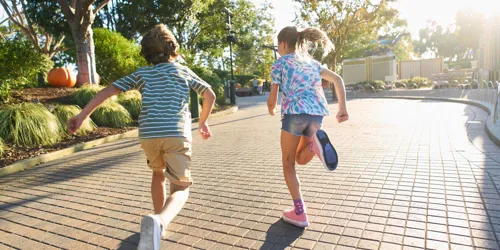 Early Park Access
Steps from the Park entrance, LEGOLAND® Hotel and LEGOLAND Castle Hotel guests enjoy exclusive early access to select rides at LEGOLAND California before the Park officially opens to the public!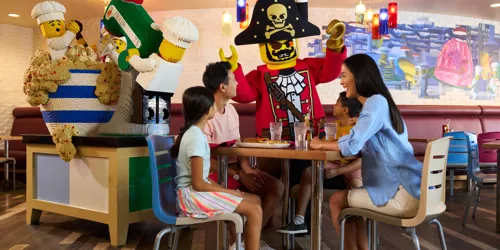 Daily Breakfast
Enjoy a FREE full hot breakfast buffet at the Bricks Family Restaurant as you start your day. Kids are in charge at this breakfast with their very own buffet line at just the right height!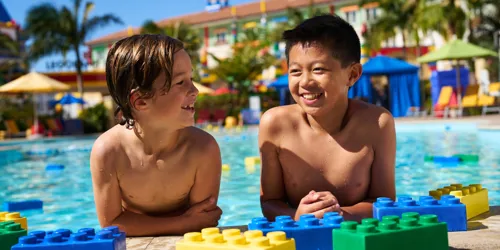 Pool
Splash and play in our zero-entry, heated resort-style pool with LEGO soft bricks to build with while you swim! Perfect for the entire family, we offer pool-side food and beverage service, and cabanas are available for rent seasonally.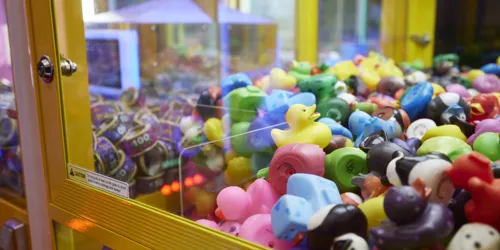 Arcade
The play continues during your stay! Check out LEGOLAND Hotel's arcade room to play games and win prizes.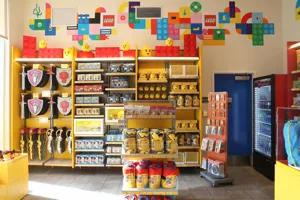 LEGO Hotel Store
When LEGO lovers have a chance to celebrate something special, they do it at the LEGOLAND hotel. After a day of fun at the Park, stop into the hotel gift shop to pick up something to make the stay extra-special. LEGO Pajamas, blankets, and your favorite plush found here! Plus, build your wackiest LEGO Minifigure from the Build-a-Minifigure table to trade throughout the day or create stories in your room at night! Open daily 9:00 AM - 8:00 PM.
We also stock items to make your stay a little more comfortable, including:
Toiletries

Childcare products

 

Basic medical supplies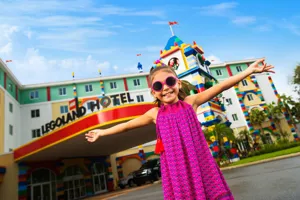 Hotel Amenities
Housekeeping: Full service housekeeping can be requested daily through our Service Wizard, from extra towels and pillows to Pack 'N plays and blankets! Your wish will be our command! 
Self-Check-In: Avoid the rush! Complete your pre-check in and be notified by text or email when your room is ready. Once you receive the QR code, visit our Self-Check-In kiosks to check into your room and start your stay! 
Wi-Fi: No Password required. Just Logon to LEGOLAND Guest. 
Fitness Centers: The fitness center is located on the 1st floor of the LEGOLAND Hotel. Open 7:00 AM - 10:00 PM. 
Hotel Pool: Towels are available at the pool deck for the pool and Waterpark. (No towels are provided at the Waterpark but you're welcome to bring some from the pool.) 
Microwaves and Ice Machines: Vending/Microwaves/Ice Machines are located on every floor next to the elevators.
LEGOLAND Hotel Arcade: Arcade hours are 9:00 AM - 10:00 PM everyday.
Bell/Valet: Service is available 6:00 AM - 11:00 PM.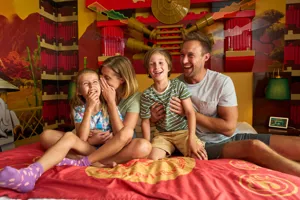 In-Room Amenities
Mini-fridge
Flat Screen TVs in Adult's and Kid's Sleeping Areas
Night Lights in Kid's Sleeping Area
Coffee and Tea Maker with Complimentary Refreshments
LEGO Bricks for In-Room Play
Iron and Ironing Board
Hairdryer
Safe
The LEGOLAND Hotel offers a variety of other services for your convenience including:
Luggage service
Electric car-charging stations