Beep Beep! Little brick fans conquer the rules of the road while pretending to be policemen, firewomen, taxi drivers or any driver they choose in LEGO City! Showcase you've passed your driving test at the Driving School Store with a personalized LEGOLAND Driver's License and head for the open road.
Guests must be able to transfer to ride vehicle
Ages 6-13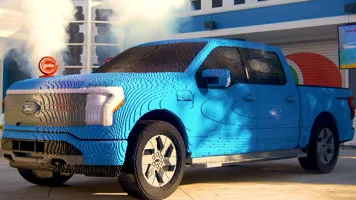 NEW! Ford F-150® Lightning™ Brick Build
Check out the newest vehicle in our LEGO® brick build fleet – the Ford F-150® Lightning™, now on display in front of the Ford® Driving School! The new 3,730-pound build measures in at more than 19 ft. long and nearly 7 ft. wide, making this the largest (and first!) electric vehicle model currently on display at any LEGOLAND® Park in North America.
Watch this new build come to life brick-by-brick!