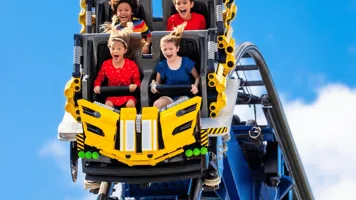 Explore LEGO® TECHNIC Coaster!
LEGO® TECHNIC comes to life on this twisting, turning, dropping roller coaster. It's a lesson in the forces of gravity and acceleration! 
Rider must be at least 42" and 4 years old.
Rider between 42" - 48" must be accompanied by a responsible rider at least 14 years old and 48" or taller.
To ride alone, rider must be at least 48" and 6 years old.