YOUR STAY AT LEGOLAND CASTLE HOTEL
EVERYTHING YOU NEED
Use the tabs below to find everything you need to make your stay more awesome at LEGOLAND California Resort.
Staying at LEGOLAND Hotel? 
QUICK REFERENCE GUIDE
View a quick reference guide for your stay, includes opening hours, links to food ordering, dining reservations, cabana reservations and more!
Hotel Guide
NEW! SERVICE WIZARD
We're ready to help with anything you'd usually call for. Need room service? Bag drop & valet? How about food or drinks from our Express menu?
ORDER NOW
OPENING TIMES
BELL/VALET
6:00 AM - 11:00 PM
SWIMMING POOL
For updated pool hours please visit our Hotel Guide or text the Service Wizards at:
Castle: +1 (760) 616-5596
Legoland California: +1 (760) 546-6246
FITNESS CENTER
7:00 AM - 10:00 PM
RETAIL SHOP
8:00 AM - 9:00 PM
Charge to room not available
LAUNDRY ROOM
7:00 AM - 10:00 PM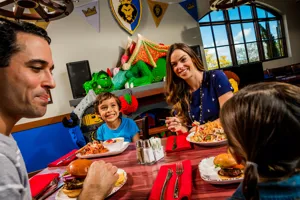 DINING AT THE LEGOLAND CASTLE HOTEL
Dragon's Den Restaurant & Bar
BREAKFAST
Breakfast Pick Up Menu

Lunch
For takeout only

All Day Grab & Go 
Available for preorder & in person at Dragon's Den Service Window
Dinner Service
Patio dining only
Reservations required for patio dining - make a reservation using the box at the top of the page.
Castle Pool Bar and Grille
Currently Closed
FULL ROOM SERVICE MENU
Room Service: 11:30 AM - 10:00 PM
A range of snacks, shareable plates, soup and salads, and meals for kids. 
See the room service menu in your room for details.
SERVICE WIZARD EXPRESS MENU
Full menu: 11:30 AM - 10:00 PM
After hours menu: 10:00 PM - 8:00 AM
Take a look at our menu then text your order! Items are delivered in 25 minutes or less!
SERVICE WIZARD EXPRESS
CASTLE HOTEL DIRECTORY
Your A-Z of amenities and services at the LEGOLAND California Resort Castle Hotel.
ATM
There is an ATM located next to the hotel gift shop.
AVAILABLE ON REQUEST
Forget to pack something? We are happy to help! The following items are available via the Service Wizard, based on availability: 
In-room microwaves
Pack N' Plays
Additional towels
Blankets
Pillows
Sewing kits
Common toiletries: razors and toothbrush sets 
CONCIERGE & LUGGAGE/VALET SERVICES
Text Service Wizard for luggage assistance or to request your vehicle.
ENERGY SAVING ROOMS
Insert room key into key slot to activate the room's energy. Key slot is located near entrance door. When leaving, remove key to shut down room energy.
EXCLUSIVE EARLY RIDE ACCESS
Early ride access starts at 9:00 AM on days turnstiles open at 9:00 AM and 9:30 AM on days turnstiles open at 10:00 AM. 
EXPRESS & LATE CHECK-OUTS
Check-out is at 11:00 AM. No need to stop by the front desk to check-out! A copy of your final bill will be sent to your email. For late check-outs, please call guest services to check availability and cost.
HOTEL DINING
HOTEL POOL & WATER PARK INFORMATION
Children under 48" tall will require a life vest to swim. See friendly lifeguard for help. Planning on spending a day at the LEGOLAND Water Park? Complimentary towels are available for checkout under guest reservation from the hotel pool. Towel checkouts begin at 9 AM and must be returned by 10 PM to avoid charge.
HOUSEKEEPING SERVICE
Servicing of the rooms takes place between the hours of 9:30 AM - 4:30 PM. Call Guest Services to request a specific time for service.
ICE & VENDING MACHINES
Located on each floor on the north wing of the hotel.
LAUNDRY/DRY CLEANING SERVICES
Service form is located in your closet. Same day deliveries must be picked up from housekeeping by 9:00 AM for delivery at 6:00 PM. All orders submitted after 9:00 AM will be returned the following day.
MEDICINE & FIRST AID
If you have an upset stomach, your head hurts from all the excitement, or your first tooth is coming through, we have a selection of over-the-counter products, available for purchase in the LEGO® Store next to reception in the lobby. If you request First Aid assistance, please contact Guest Services or visit the front desk.
MICROWAVE
Located on each floor on the north wing of the hotel.
NIGHT LIGHT
A night light is located near the LEGO play table in the children's sleeping area. Check out the hotel's new starry night feature by pressing the button with a star around it on the children's TV console.
QUIET TIME
We are a family friendly hotel with lots of tired little ones after a long day at the Resort. Please respect your neighbors and be considerate to others when moving around the Hotel and its grounds. Quiet time begins at 10:00 PM.
TELEPHONE
All local and national long distance phone calls are included in your reservation. To dial out: dial "9", then "1", then the area code and number.
THERMOSTAT
Feel free to set the thermostat to your desired temperature between 68 and 79. Please note the following tips:
1. Window and patio doors should remain closed to maximize unit's full potential.
2. Room will take 15-30 minutes to reach set temperature
3. To reset thermostat, turn the unit off for 15 seconds and then reset to desired temperature.
WI-FI
No password necessary, just log in to connect to the LEGOLAND® Hotel Network!