Brick-or-Treat!
MONSTER PARTY!
6 – 31 October
6 - 31 October 2023
Free with your day ticket to LEGOLAND® Dubai
LEGOLAND® Dubai, Event
The Return of Monster Party at LEGOLAND® Dubai!
Get ready for a monstrously exciting adventure as the LEGO® Monsters make their hair-raising return to LEGOLAND® Dubai. Join us for a delightfully eerie celebration from 6-31 October. Don't miss your chance to become part of the Monster Takeover! And for even more Halloween fun, why not double the excitement with an added Monster Sleepover at the LEGOLAND Hotel? Plus, indulge in the BRICKS BRUNCH - Monster Party every Saturday in the Bricks Family Restaurant at LEGOLAND Hotel!
What's in Store for Little Adventurers During This Fang-tastic Extravaganza?
Monster 4D Movie:
Brace yourselves for 'The Great Monster Chase' at our LEGO® Studios 4D with entertaining monster effects that are perfect for kids. Get ready to laugh, gasp, and cheer as the LEGO Monsters embark on a hillarious adventure!
Monster Scavenger Hunt: NEW!
After the movie, embark on a thrilling Scavenger Hunt to find all the monster band members hidden throughout the Park. It's an adventurous quest for young explorers! Gather your little detectives and join the hunt.
V.I.M. Dance Party:
Kids, get ready to show off your best monster moves at the exclusive V.I.M. (Very Important Monsters) Dance Party, hosted by none other than DJ Lord Vampyre himself, twice a day in the Castle Courtyard. Dress up in your spookiest attire and dance the day away!
Monster Brick or Treat Trail:
Young adventurers can hunt down HARIBO candy on the special Monster Brick or Treat trail, occurring three times a day. Unwrap the mystery of delicious treats hidden along the path.
Monster Meet & Greet:
Little ones can get up close and personal with our fantastic Halloween characters on Monster Street. Don't forget to snap for a memorable encounter!
Scarecrow Dance Squad: NEW!
Join Ernie the Scarecrow as he shines in the Scarecrow Squad Dance show, happening twice daily. Watch in amazement as Ernie and his scarecrow friends groove to monster beats!
Monster Street Games:
Have fun into daily themed activities at Monster Street Games. Compete in fun-filled games and win prizes!
Best Dressed Monster Contest:
Kids can flaunt their Halloween spirit every Saturday & Sunday until 31st October and stand a chance to win fang-tastic prizes. Get your costumes ready and participate in our monster costume contest!
LEGO Pumpkin Build:
Young builders can unleash their creativity and showcase their LEGO building skills at MINILAND by creating their very own LEGO pumpkin. Let your imagination run wild and craft your awesome pumpkin masterpiece!
Capture the Excitement:
Don't forget to snap memorable photos at our Halloween special areas, featuring the Zombie Cheerleaders Graveyard, Wacky Witch, and LEGO Pumpkin Patch. Share your photos using #LEGOLANDDubai to be featured on our social media!
Monster Menus:
Our restaurants and food joints in KINGDOMS have undergone a monstrous transformation, offering delectable Monster Menus, including - Ernie's Ice Scream Parlour, Frankie's Freaky Fries, Crazy Witch Broomstick Burgers, and Zombie Cheerleader's food cart. Taste the monstrous flavours of Halloween!
Limited-Edition Halloween Refillable Drinks Bottle:
Stay refreshed with unlimited refills! Grab one for AED 79 or get them at AED 69 each when you purchase two or more.
Monster Dress Up Boo-tique:
If you're into themed shopping, head to King's Market, now transformed into a Monster Dress Up Boo-tique. Find the perfect outfit for Lord Vampyre's Dance Party! Shop for costumes, accessories, and more.
Exclusive Offer:
FREE Halloween exclusive set when you spend AED 399 or more at The BIG Shop in Factory Street and/or Monster Street Boo-tique (King's Market) in KINGDOMS.
Book Now For 10% Discount On Park tickets
Or Double the Adventure with an Added Monster Sleepover at LEGOLAND Hotel!
Transform your visit into an unforgettable Monster Sleepover at LEGOLAND Hotel with an add-on package for AED 229pp. Enjoy the treats (no tricks!) 
But Wait, There's More! Join us for the BRICKS BRUNCH - Monster Party at the Bricks Family Restaurant:
Young adventurers, sink your teeth into our fang-tastic  BRICKS BRUNCH - Monster Party in a LEGO themed world this Halloween. Every Saturday from 1 pm to 4 pm at LEGOLAND Hotel's Bricks Family Restaurant. Get your family's Halloween costumes ready for our Best Dressed Monster Competition!
Join in the monster fun and make this Halloween unforgettable for your little ones!  Book your Monster Sleepover now and double the adventure, or savour our BRICKS BRUNCH - Monster Party. With a host of fang-tastic activities and eerie entertainment, LEGOLAND® Dubai Resort is the ultimate Halloween destination for your family!
Explore & Book Monster Sleepover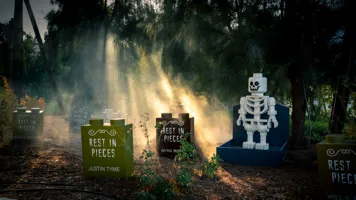 2022 Monster Party
Checkout the party recap video and images from last year to get a sneak peek!