Themed Dining
You'll never go hungry at LEGOLAND® Hotel!
Park Tickets Included!
Family suites accommodate up to 8 guests!
Treasure hunt in every room!
Park Tickets Included!
Family suites accommodate up to 8 guests!
Treasure hunt in every room!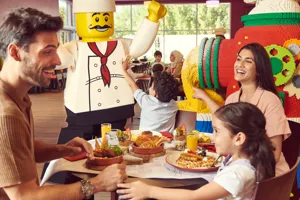 Bricks Family Restaurant
Bricks Family Restaurant is a fun filled family buffet-style restaurant built with kids in mind!  The buffet includes child-friendly menu offerings served right at a kids level.  Bricks has an array of delicious items to choose from and is open for breakfast, lunch and dinner! Remember, breakfast is already included in your stay! 
Breakfast: 7am – 11:00am (peak time is from 9.30am, so we recommend arriving before this time.)
Lunch: 12:00pm – 5:30pm (A la carte)
Dinner: 6:30pm – 10:00pm
Happy Hours: 12pm - 2pm and 6pm - 8pm
Half Board package includes breakfast & dinner at Bricks Family Restaurant
Click HERE to view the MENU.
KIDS EAT FREE FOR DINNER... click HERE for details!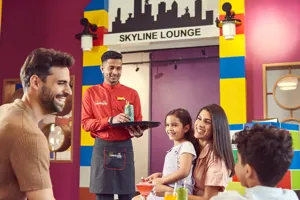 Skyline Lounge
Open daily from 11am till 11pm.  Enjoy hot & cold beverages all day long while enjoying the LEGO® skyline and the LEGO play pits.
Join us for dinner from 5.30pm until 11pm where you can enjoy a wide menu offering, including burgers, Arabic platters and much more.
Happy Hour
We have two happy hours, where you can enjoy reduced rates on selected beverages.  Visit us from 12pm-2pm and 6pm-8pm.
Click here for Skyline Lounge menu.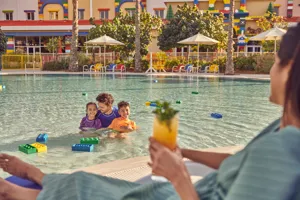 Pool Service
Enjoy food & drink poolside with our Pool Bar service.  From 11am until close you can keep hydrated with our drinks menu and even grab a bite to eat from the lunch menu.
Needing a snack?  Our Pool Bar serves a range of ice creams and snacks - perfect to refuel before enjoying another splash!
We offer both non-alcoholic and alcoholic drinks poolside, and even offer our daily happy hours too.
Click here for our Pool Service menu.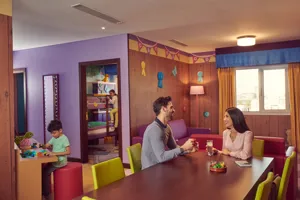 Room Service
We would love you to try our fun filled dining experience in our LEGO® themed restaurants in the hotel, however if you need a late-night snack or fancy staying in your pyjamas in your fully themed room, why not order from our Room Service menu. 
Room Service available between 11.30am - 6am (next day) serving a la carte menu with minimum charge of AED 50.
Room service delivery times may vary.
Click here for room service menu.