Discover a galaxy of fun
Neon Gallaxy
Riverland, Dubai Parks & Resorts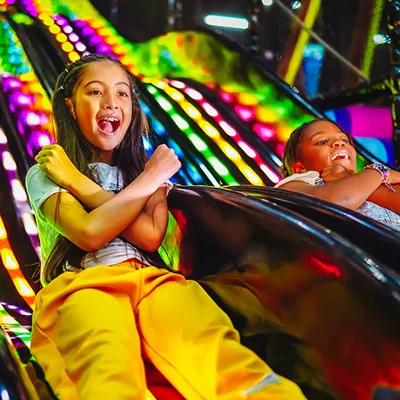 CURRENTLY CLOSED - We will re-open on the 8th September with an extended F&B area!
Why not stay an extra night at LEGOLAND Hotel and give yourself time to explore the rest of the fun at Dubai Parks and Resorts... including the brand new Neon Galaxy* with a very special discounted rate just for our LEGOLAND Hotel guests!
An exhilarating indoor adventure park for kids and young teens, that takes you on a journey through the galaxy! Located within Riverland, a short walk from LEGOLAND Dubai Resort, the space-themed playground is packed with exciting activities for all ages. With a dedicated toddler area called Little Astronauts and a multi-level play area called Astro Arena, this will be a great add-on after you've conquered LEGOLAND Dubai Resort and are still ready for more action!
How Do I Book?
When you are making your LEGOLAND Hotel booking, simply click on ENHANCE YOUR STAY and you will see the option to add your discounted Neon Galaxy passes to your basket.  LEGOLAND Hotel guests can exclusively get their passes for just AED 45 per child - discounted from AED 85 standard price.  Please only add passes for the kids, as parents can simply relax in the Cafe conveniently situated inside while the kids explore the galaxy!
Terms & Conditions:
- Children under 98cm tall may access the 'Little Astronauts' space only, adult supervision is required at all times.
- Children above 98cm tall may access the 'Astro Arena', adult supervision is recommended.
- Height restrictions apply for the safety and well-being of our guests (maximum height allowed - 160cm).
- The wearing of socks is mandatory for all guests at all times.
- You may not bring external drinks or food into the play areas.
- You must comply with all park safety rules and instructions.
- Admission to Neon Galaxy is at your sole risk and, to the maximum extent permitted by law, Neon Galaxy accepts no liability for loss, injury or damage sustained inside the park.
- Neon Galaxy may deny admission or remove you for not abiding by the safety rules set out (without refund).
- Tickets are non-refundable and non-cancelable.
- All guests entering the Astro Arena are required to complete a waiver form.
*Neon Galaxy is not owned or operated by LEGOLAND Dubai Resort.