We need your help to celebrate the 90th Anniversary of LEGO! Play YOUR Way is a playful, engaging experience inspiring children to discover five different Play Types and encourages them to get hands-on with LEGO bricks to find the one they most identify with and showcase their creativity! 
Featuring Bricktacular Giveaways Every Week
Every Thursday through Sunday, visit Play YOUR Way to meet our Master Player & Guru of Giveaways. The Master Player will spread extra playtime magic by giving away limited-edition lanyards and surprising guests with 90 special giveaways each week.
The fun runs through August 10th, so swing by on your next visit and see if you're a lucky giveaway winner!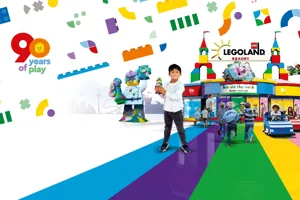 Guests will receive an exclusive, limited edition pop badge for each Play Type build challenge they complete while exploring the park. Visitors will be challenged to explore the different activities and find out which suits their play personality best:
Are you a Designer? Aware of problems, these builders are focused and get ideas from asking questions. Their LEGO® creations solve problems and playtime is thoughtful.
Are you a Maker? Aware of objects, these builders are energetic and get ideas from trial and error. Their LEGO® creations are detailed and playtime is experimental.
Are you an Explorer? Aware of the environment, these builders are curious and get ideas from new discoveries. Their LEGO® creations are bold and playtime is adventurous.
Are you a Storyteller? Aware of others, these builders are dramatic and ideas come from fantasy. Their LEGO® creations are used to entertain and playtime is theatrical.
Are you a Dreamer? Aware of possibilities, these builders are imaginative and ideas come from daydreaming. Their LEGO® creations are artistic and playtime is magical.