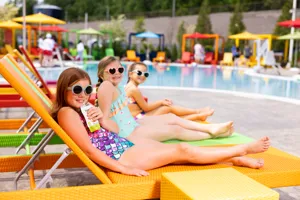 Hotel Pool
Splash and Play all day at the LEGOLAND Hotel Pool! What a fun way to cool off and unwind after an AWESOME day! Beat the heat and rent one of our Cabanas. Pool hours are 9am - 8pm. 
Rent a Cabana from 10am - 6pm! Included is – 2 lounge chairs, reserved shaded seating area, a LEGO surprise, 6 cooled water 

bottles and 6 cooled juice boxes, and a fresh bowl of fruit. Max capacity per Cabana is 6 people. 

​

Snack at The Sandbar with some poolside favorites! 

​

Fresh Towels Daily

​

Lifeguard on Duty 

​

Access to restrooms and changing rooms

Open 9am - 8pm 
Have Fun and Play Safe at the LEGOLAND® Hotel Pool
No glass is permitted in the pool area.
No smoking in the pool area.
Parents/Guardians are responsible for supervising their children in this area at all times.
Parents/Guardians must remain in the water at all times when accompanying non-swimmers.
Service animals only are permitted in the pool area.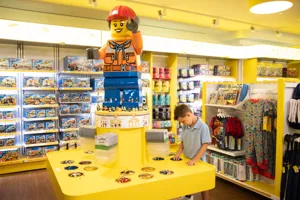 Attractions & Activities
There are 5-gazillion things to do at the LEGOLAND Hotel! Meet LEGO characters, enjoy nightly entertainment in the lobby, build with a Master Builder, and more!
Retail Gift Shop - The Little BIG Shop has a great selection of LEGO goodies to hold you over 'til you hit The Big Shop inside LEGOLAND New York! We also stock items to make your stay a little more comfortable, including toiletries, childcare products, and basic medical supplies
Castle Play Scape
Disco Elevator
Creative Workshop with Master Builder
MINIFIGURE Wall! 5,304 Minifigures on display!
Hotel Pool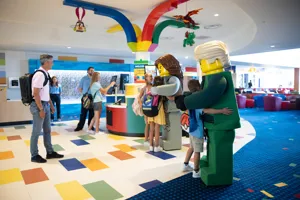 Amenities & Services
LEGOLAND Hotel offers a variety of services for your convenience including:
Online Check-In
Valet parking ($30 each day)
Luggage service
Room service 
Laundry service
Fitness center
Wi-Fi included
Lost and found