Are you ready to explore?
JUNIOR EXPLORERS
26 March - 24 April
26 March - 24 April
Free with your LEGOLAND Dubai entry ticket!
LEGOLAND® Dubai, Event
Are you ready to explore?
Take on the challenges to become a Junior Explorer at this brand new AWESOME event in LEGOLAND Dubai!


With BRAND NEW challenges, adventures and LEGO prizes to be earned...
Step 1: Earn coins to join the Junior Explorers Treasure Hunt!
Become a Junior Explorer by completing 4 AWESOME activities to earn coins and buy your very own Treasure Map!
LEGO® Artifact Build
Build your own ancient artifact using LEGO® bricks and add it to the Ancient Artifact display to earn your first coin!
Fossil Dig Pit
Become a historian by digging for long lost fossils in the sand and correctly identify them to earn your second coin!
Sphinx's Challenge
Take part in the Sphinx's Challenge by competing in a real explorer's game of chance, if you win, you'll earn your third coin!
LEGO® Mosaic Build
Help us build a HUGE treasure map out of LEGO bricks and earn your final coin!
Step 2: Find hidden treasure!
After you've earned your 4 coins head over to Explorers Souq and trade your coins for the secret Treasure Map!  
Use your treasure map to find hidden hieroglyphic clues scattered in ADVENTURE. Decipher the hidden code to receive your secret treasure which you can take home and keep!
Explorers get hungry too...
After all that exploring you'll definitely be hungry and we've got AWESOME explorer treats waiting for you!
Explorers Shacks
Refuel with a range of yummy snacks and treats at the Explorers Shack food cart
Caesar's Pizza & Pasta Buffet
Not only are we offering the delicious all you can eat pizza, pastas and salads that you know and love but for a limited time you can enjoy Explorers Grills inclusive of your buffet with AWESOME hot bites perfect for the ultimate explorer!
And don't forget to get your exclusive limited edition Junior Explorer brick when you exit the Park!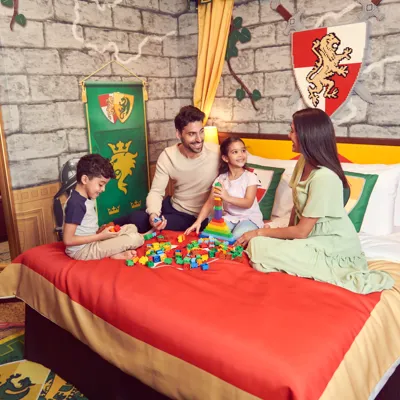 Buy your tickets today!
LEGOLAND Dubai tickets only AED 295 per person if bought one day in advance!
Includes entry to LEGOLAND Dubai, access to all rides, attractions and events for the day! 
BUY NOW