LEGO® EDUCATION WORKSHOPS
At LEGOLAND® Dubai playful learning is the core of everything we do. Working with LEGO Education we've developed fun, hand-on programs for students aged 5-12 allowing them to build robots, learn how machines work or use LEGO bricks in storytelling. Plus each educational session is combined with an AWESOME day at the park allowing for even more fun learning.

All workshops have been developed by LEGO Education. All sessions take place at LEGO MINDSTORMS® & LEGO Master Builder Academy in IMAGINATION. Workshops run between 30 – 45 minutes & can accommodate up to 30 students per session. Workshops are developed to support school curriculum. Our BRICKQUIZ's are specifically developed for LEGOLAND Dubai and can cater for larger groups of up to 500 kids.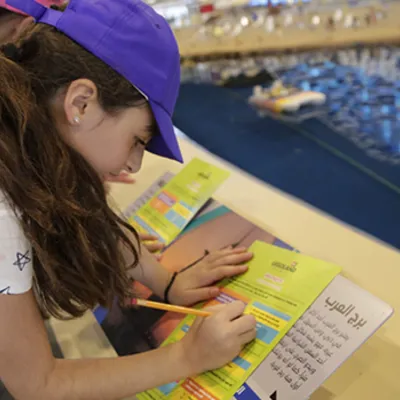 BRICKQUIZ CHALLENGES
Curriculum Focus: English
Recommended Age Group: 5-12 years

Test your knowledge with one of our BRICKQUIZ challenges and learn AWESOME facts about structure, landmarks, history, sea life and much more!

Through this session students will learn:
Creative problem solving skills
Collaboration and teamwork
Communication skills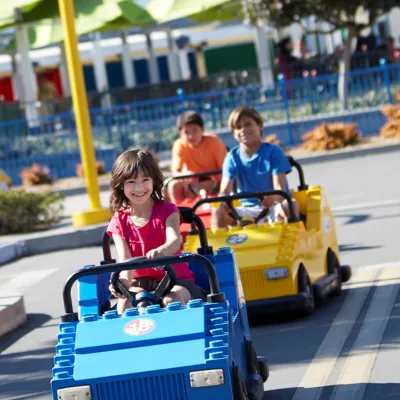 DRIVING SCHOOL
Curriculum Focus: Road Safety
Recommended Age Group: 6-12 years

After a road safety induction, students will get to drive around our Driving School course. Our realistic roads will take students on a fun ride where they will encounter traffic lights, roundabouts and real life traffic situations. After learning the road safety rules, students will receive their very own official LEGOLAND® Driving License.

Through this session students will learn:
Road Safety
How to navigate through real life traffic situations
How to understand traffic signage
FUNTASTIC GEARS
Curriculum Focus: Science & Technology
Recommended Age Group: 5-7 years
Younger students will be able to build fun and colorful LEGO® models that will encourage them to discover basic mechanical principles.
By playing with and manipulating the models, children experience pulleys, levers, gears and wheels and axles while exploring energy, buoyancy and balance.
Through this session students will learn:
What gears are and what causes their circular movement
How gears change speed and direction of movement
How to build a model that uses gears to control speed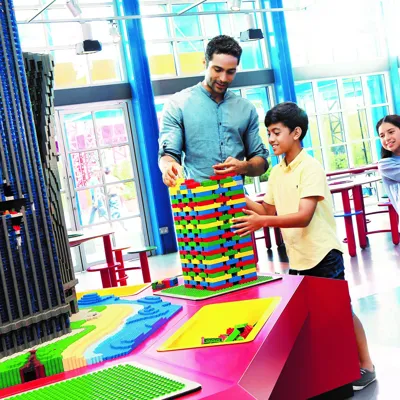 AMAZING MACHINES
Curriculum Focus: STEM (Science, Technology, Engineering and Mathematics)
Recommended Age Group: 8-12 years

Students will use LEGO® Technic line to explore basic mechanical principles. By designing and building models, students will be exposed to concepts such as: forces and motion, measuring, energy and structure.

Through this session students will learn:
How simple machines work
What levers, pulleys and gears are and how they work
Collaboration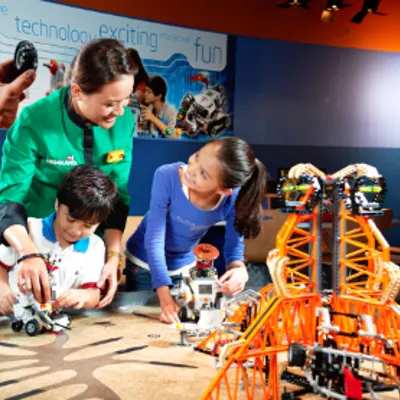 WeDo 2.0
Curriculum Focus: Computing & Technology
Recommended Age Group: 6-8 years

WeDo 2.0 will take students on a thrilling journey, where they get to witness a robot come to life. The interesting combination of LEGO® bricks and tablets will immerse students and help them create their own interactive model.

Through this session students will learn:
Basic computing skills
Creative problem solving skills
Teamwork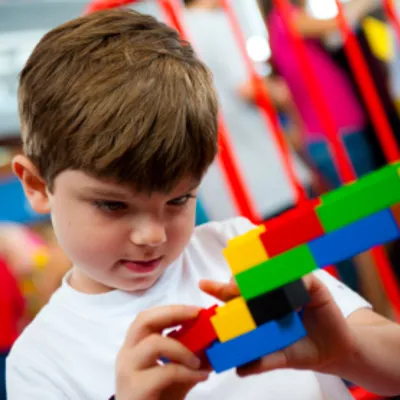 STORY STARTER
Curriculum Focus: English
Recommended Age Group: 5-6 years

LEGO® Education Story Starter is the helping hand that kick-starts students' creativity and imagination whilst boosting their speaking and listening skills. Students will work together to create and build stories with LEGO bricks and Minifigures.


Through this session students will learn:
How to express themselves and structure their stories
Collaboration and teamwork
How to develop their overall communication skills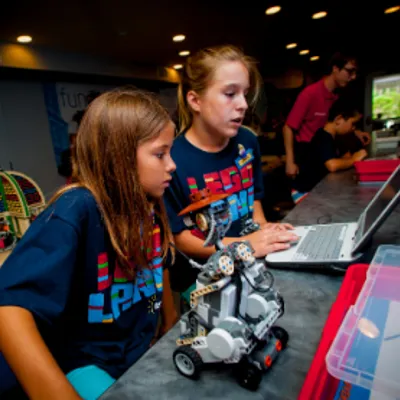 LEGO® MINDSTORMS® SPACE CHALLENGE
Curriculum Focus: STEM (Science, Technology, Engineering and Mathematics)
Recommended Age Group: 8-12 years

Bring Maths and Computing alive outside of the classroom. Through hands on approach, students get to complete a series of space challenges with their LEGO® MINDSTORMS® Education Robots. Students develop and use their problem solving skills to learn Algorithms, Boolean, Sequences, & Inputs and Outputs, through building and de-bugging programs. Maths concepts covered include estimation, measurement, precision and modelling.

Through this session students will learn:
Estimation, measurement, precision & modelling
Algorithms, boolean, sequences and inputs and outputs
Creative problem solving skills