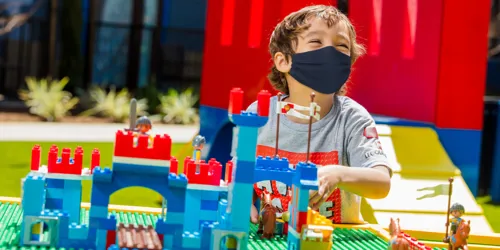 Safe to Play
Get more information on the health & safety measures being implemented throughout the Resort and see how we are making it safe to play and stay.
We're a Cashless Resort!
LEGOLAND California Resort is cashless and will only accept credit or debit cards in the theme park, water park, aquarium and hotels.
Top 5 Tips
Bring a Minifigure to trade or buy one in the Park (you can trade them at the Miniland Market, Dino Dig Store, LEGO Idea Shop, King's Market, Miniland Trading Co, the Park Information booth in The Beginning and SEA LIFE Aquarium)!
Download our mobile app for an interactive map, ride wait times and more
Review height restrictions to plan your day

Download our Height Restrictions Guide or check in our mobile app
Download What to Do When You're Two

Text us for help during your visit at 760-203-3604
Use #LEGOLANDCA to share your photos with us!
Helpful Hints
Book a VIP Experience to get front of line passes, a special guide for the day and more. Check out the options!
Upgrade to our all-new Reserve 'N' Ride Electronic Ride Reservation System with more than 14 of our top rides available to choose from.
Make memories that will last a lifetime with an Unlimited Digital Photo Pass!
Special dietary needs can be accommodated - check our Dietary Guide.
Skip long lines by arriving before noon and starting in the back of the Park. Skip Safari Trek, Coastersaurus, Fairy Tale Brook and come back to those rides around 3pm. 
Enter the Water Park before 11am or after 3pm to avoid long entry line.
Plan a meeting spot in case you get separated – the First Aid Building next to Coast Cruise is a good one.
Leave your purchase with us and pick it up in The Marketplace at the end of the day.
Parent Swap is for parents who have kids that meet and don't meet the minimum height restriction, so both parents can enjoy the experience. All members of the party are required to wait in line together. When you reach the front, let the ride operator know of your intention, so that he/she can accommodate you. When the first ride is over, the parents may then switch places and the other parent can then ride with the older child.
Bag Check
LEGOLAND California has many policies and procedures in place that make our Resort a safe place for our guests and staff members; all Guests are subject to bag checks before entry.
Prohibited Items:
No weapons of any kind are allowed on Resort property
Marijuana, alcohol or any illegal substances
Food or beverages (water, small snacks and items required for medical, religious or specific dietary purposes are permitted)
Coolers larger than 6-pack size (coolers no larger than 12" x 10" are permitted)
No glass containers (baby food containers are permitted)
Luggage, rolling backpacks or similar items with wheels
Segways, roller blades, scooters, hover boards, wheeled shoes and skateboards
Folding chairs
LEGOLAND California reserves the right to search/inspect any item and not allow any other items determined to be harmful.
Resort Guest Services will not hold any of these prohibited items.
Resort Rangers patrol all areas of the Resort and are more than happy to help or advise
Parking
Cars: $25
Campers/RVs: $35
Motorcycles: $25
Preferred Parking: $35
Re-entry is available with valid parking stub during same day of visit. Buses and bicycles are free. Handicapped parking spaces are available near the park entrance, with valid placard. Six L2 car-charging stations available on a first-come, first-served basis.
Directions
LEGOLAND California
One LEGOLAND Drive, Carlsbad, CA 92008 GOOGLE MAPS

LEGOLAND Hotel
One LEGOLAND Drive, Carlsbad, CA 92008 GOOGLE MAPS
Thirteen L2 car-charging stations available on a first-come, first-served basis.
Stroller Rental
Strollers can be rented on a first-come, first-served basis at The Marketplace in The Beginning. You can also bring your own.
Single strollers: $14.00
Double strollers: $17.00
Infant strollers: $14.00
Locker Rentals
The Beginning ($12/$16)
Pirate Shores ($10)
LEGOLAND Water Park ($12/$16)
Wheelchair Rental
Wheelchairs and Electric Convenience Vehicles (ECV)* can be rented on a first-come, first-served basis at The Marketplace and in The Beginning. Reservations are not available. You can also bring your own.
Wheelchair: $15.00
Electric Convenience Vehicle with Canopy & USB Charge Outlet: $50.00
*Wheelchairs & ECVs cannot be accommodated on rides due to ride manufacturers' safety restrictions. Guests must be at least 18 years of age to rent and/or operate an ECV.
Guests with Disabilities
Most attractions at the Park are accessible to disabled guests, depending on the nature of the disability. For more information, download our Disabled Access Guide.
Smoking Policy
For the safety and comfort of all of our Guests, smoking is only allowed at designated smoking areas. Smoking areas are located outside The Beginning of the Park in the ticket plaza area and the Model Shop roof.
Electronic cigarettes (e-cigarettes) must also be compliant with this policy.