DINOSAURS RUN WILD IN NEW YORK! MINILAND U.S.A. IS UNDER A PREHISTORIC TAKEOVER AT LEGOLAND® CALIFORNIA RESORT!
Thursday March 3rd 2022
Media Contacts: Jake Gonzales/760-918-5379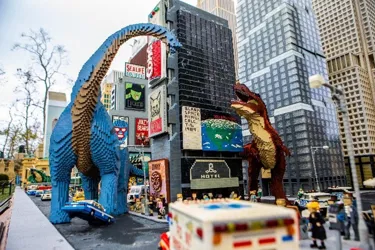 LINK TO BROLL:  https://spaces.hightail.com/space/6Qf9VWPlqC  
LINK TO IMAGES: https://spaces.hightail.com/space/tAXihQxIJ1 
CARLSBAD, Calif. (March 3, 2022) – Have you ever imagined massive dinosaurs running wild through the streets of New York City? That's exactly what's happening at LEGOLAND® California Resort as more than 30 of the massive creatures have taken over the Big Apple in Miniland U.S.A. Guests can get up close to  Stegosauruses, Brachiosauruses, Triceratopses and the mighty Tyrannosaurus rex, among others, running rampant through the city. The fun scenes all depict what happens when a science convention has gone wrong and now families can join a LEGO® Mad Scientist in his search to find and identify all the creatures.  
Each prehistoric reptile took a team of Master Model Builders more than 60 hours to design and construct. Each dinosaur weighs more than 20lbs and is built out of more than 30 thousand LEGO® bricks. Sharp LEGO® teeth, gigantic claws and tiny T-rex arms are among the many identifiable characteristics of the carnivorous models. The Model Builders also had some fun creating silly and entertaining scenes in Time Square, Central Park and high above the city skyline for all to enjoy.  
LEGO dinosaurs will be roaming around the city that never sleeps now through summer at the Park… catch them fast before they go extinct!   
This dinosaur experience is included in the price of admission to LEGOLAND® California Resort. For LEGOLAND® California Resort ticket prices, Spring Break special offers, operating schedule and additional information, visit www.LEGOLAND.com or call 760-918-LEGO (5346). 
### 
LEGOLAND® California Resort includes LEGOLAND® California, SEA LIFE® aquarium, LEGOLAND® Water Park, LEGOLAND® Hotel and LEGOLAND® Castle Hotel. All are geared for families with children between the ages of 2 and 12. At LEGOLAND California, you'll find more than 60 rides, shows and attractions including the new The LEGO MOVIE WORLD based on the blockbuster films The LEGO® Movie™ and The LEGO® Movie™ 2: The Second Part. The new land fully immerses guests into the LEGO® Movie universe and places them onto the streets of Bricksburg. LEGOLAND Water Park features more than seven slides, sandy beaches and the unique Build-A-Raft River plus Pirate Reef and LEGO Legends of CHIMA Water Park comprising 10 acres of water fun! The nation's first LEGOLAND Hotel features 250 rooms, all themed either as pirate, adventure, kingdom, LEGO® Friends and LEGO® NINJAGO™! North America's first LEGOLAND Castle Hotel features 250 rooms, fully themed as Knights and Dragons, Royal Princess and Magic Wizard.  For more information, visit www.LEGOLAND.com or call (760) 918-LEGO (5346). 
About Merlin Entertainments 
Merlin Entertainments is a global leader in location-based, family entertainment. As Europe's number one and the world's second-largest visitor attraction operator, Merlin operates more than 138 attractions, 21 hotels and six holiday villages in 24 countries across four continents. Merlin's purpose is to deliver memorable experiences to its millions of guests around the world, through its iconic brands and multiple attraction formats, and the commitment and passion of its employees.   
See www.merlinentertainments.biz for more information and follow on Twitter @MerlinEntsNews.